Thanks to Robinsons Fruitshoot for sponsoring this post and inspiring me to share
healthy & earth-friendly ways for packing kids' lunches!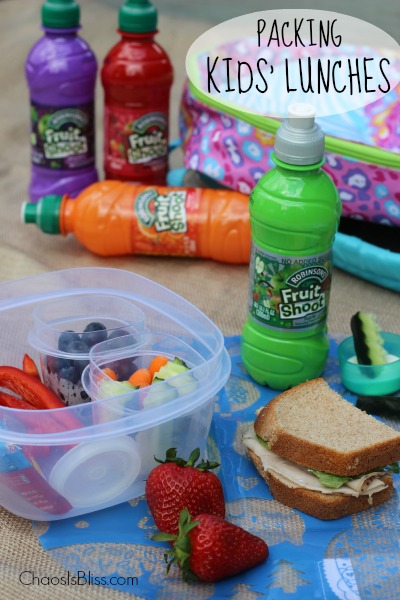 Packing Kids' Lunches
Packing healthy lunches for kids is a popular topic all year 'round, whether it's for school, summer camp, field trips or just a trip to the park. With Earth Day coming up in April, it's a good reminder to do what we can to preserve the environment, by recycling, reusing, and reducing our waste. When you can pack a healthy lunch and keep some environmentally-friendly tips in mind, you'll be teaching your children the value of their own little body's health as well as the health of the planet.
Here are 5 tips on packing kids' lunches, in a healthy and earth-friendly way: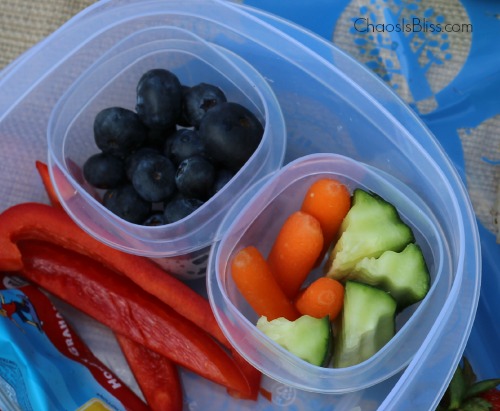 1. Taste the rainbow
… and no, that doesn't mean brightly colored candies!  Choose vibrant colors of fruits, vegetables and grains that will interest and engage kids, with a healthy dose of vitamins and antioxidants. Some ideas that my kids love:
Blueberries or blackberries
Red grapes (instead of boring white grapes!)
Cucumber (leave the peel on for even higher nutrient content than the flesh!)
Carrots
Cherry or grape tomatoes
Red, green, orange or yellow peppers
And what my kids won't eat, but some will: fresh pea pods, or even the baked variety for a chip-like salty taste
2. Skip the high fructose corn syrup (HFCS)

While I would be a hypocrite to say I follow this guideline 100% of the time (I have my faves I won't budge from – I'm human!), I do try to choose products that contain no high fructose corn syrup, such as bread and cereal, canned fruits, and fruit juice.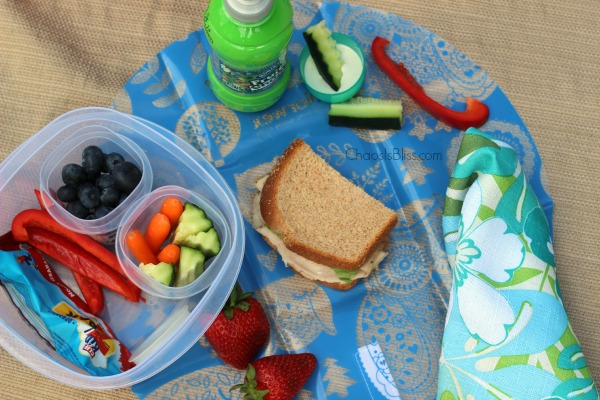 3. Green your lunch routine
Try to use products that are eco-friendly instead of plastic disposable bags, such as reusable containers (look for BPA-free plastics), and reusable sandwich bags (I like this one that doubles as a placemat, above). If your kids' lunchboxes are not filthy beyond repair, try to reuse them an extra year before buying a new one.
4. Keep cold foods cold, and hot foods hot
Not only will foods taste as they're meant to, but it's a health hazard not to! Make sure to pack an ice pack for cold lunches (there are even fun ones for kids), and use a stainless steel food container to keep soups, pastas and other hot foods hot.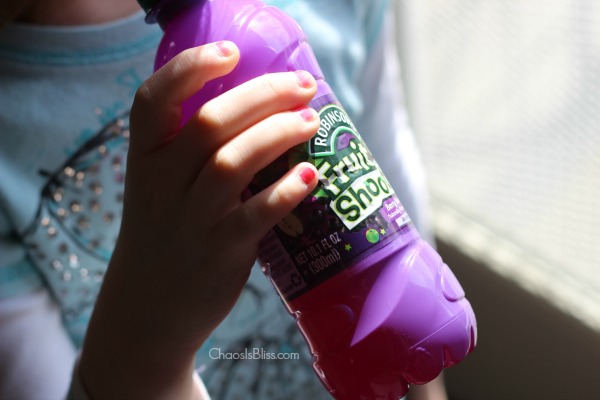 5. Hydrate, hydrate, hydrate
Remember especially in warm weather and when kids are active with sports, it is important to hydrate! Water is 0 calories, 0 added sugar, 0 HFCS and so necessary for your body. It's the single most important drink we should all be consuming! But kids are kids – and when yours want something more flavorful (ok – sweet!), a fruit juice like new Fruitshoot with no HFCS and options with no added sugar, will help quench their thirst and satisfy their fruity cravings!
~   ~   ~   ~   ~
What tips do you have on packing a healthy lunch?
How do you teach your kids to be earth-friendly?
You may also like:
You can find Fruitshoot mostly in the South, Southeast and Midwest, and hopefully across the country soon. There are 4 flavors: Apple, Orange, Strawberry/Raspberry and Berry Burst. Regular and no-added-sugar options are available. Fruitshoot has a no-spill cap which I totally dig. Plus it has no HFCS and is made from real fruit juice.
This post was sponsored by Robinsons Fruitshoot. As always, all opinions are 100% my own. See my disclosure policy for details.

(Visited 258 times, 2 visits today)