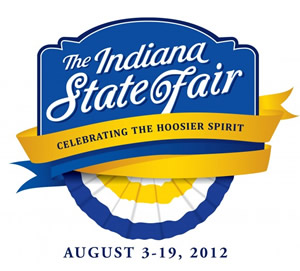 Those of you that live in the Hoosier state, have you had a chance to visit the Indiana State Fair yet? You still have plenty of time to take in your fill of the fair, now through Sunday August 19th!
I took my three children last Wednesday, using my free ticket from the Indianapolis Star (plus my youngest was free!). And I'm going back today to enjoy another fun day (daddy joins us this time!) thanks to the folks at Indiana's Family of Farmers!
When it was just the kids and me, we took things a bit slower, knowing we'd be back at least once more. Here are the fun things we hit up: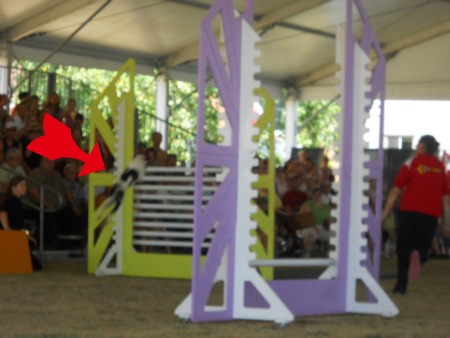 SuperDogs in Dow AgroSciences Celebration Park: This was a must-see for my kids! We were able to grab a spot on the ground near the back side, and even my 3 year old sat in awe at these amazingly fast dogs (as noted by the red arrow pointing to the black & white blur)! The show was about a half hour, and although I was itching to move on to something else, my kids were really enjoying it so we watched until the end, and even were able to pet a few of the dogs afterward.
Mapapa African Acrobats at the Free Stage: High energy abounds with this group in the 20-minute show. I'll admit the beginning could have moved a little faster – there was a bit too much dancing in between turns at the limbo stick, but it picked up quickly and the crowd loved it. There are picnic tables so you can even grab your lunch at one of the nearby vendors and eat while you watch.
Sheep, Horses, Cows … and we'll be back for more!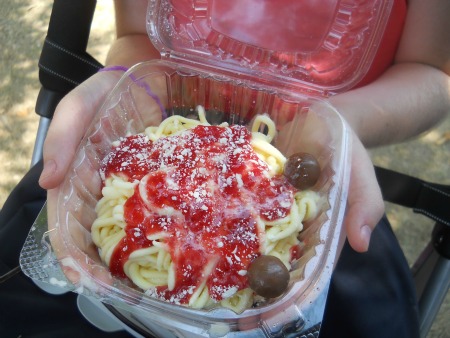 Spaghetti Ice Cream: This delectable won the 2012 State Fair's "Signature Food", and it was To. Die. For! Despite my son's wretched face when I mentioned it (he's not a pasta fan), I assured him there was no actual pasta involved and he was on board. It's vanilla gelato in spaghetti-like strings, with strawberry "spaghetti sauce", shredded white chocolate "parmesan" and chocolate malted milkball "meatballs".
Today we'll have a fun day with other bloggers, enjoying Indiana Dairy, Indiana Beef and Indiana Pork plus some behind-the-scenes of the livestock barns and more family fun. Oh and we are SO meeting Clifford the Big Red Dog!
When you go, be sure to follow along the Indiana Family of Farmers Recipe Trail, as one pound of food will be donated to a food bank in Indiana for every person completing the trail, with hopes to donate 3,000 pounds this year! Visit the Indiana Family of Farmers booth in the DuPont Food Pavilion for more information.
Don't forget tomorrow is $2 Tuesday, just print this voucher from Turkey Hill for $2 admission to the Fair all day Tuesday, August 14th.
Take advantage of more Indiana State Fair discounts and deals so you can experience the fair with your family, and browse around here for some great local Indiana deals too!
(Visited 588 times, 10 visits today)