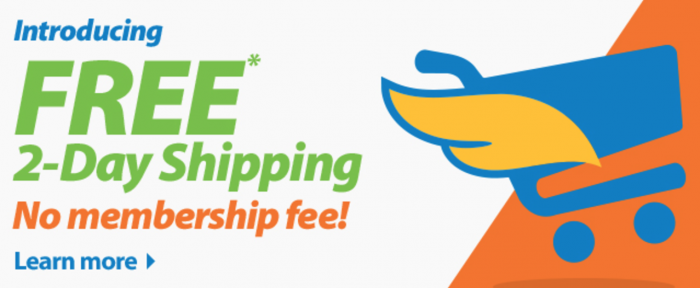 Walmart just introduced free 2-day shipping. So what did Amazon quietly do to counter?
The Backstory
Just a few years ago you only had to spend $25 on Amazon to have your order shipped for free when you were not an Amazon Prime member.
Then that minimum was raised to $35.
Then it got jacked up to $49, which is kind of strong-arming people to feel like they have to get the prime membership.
Related: Amazon Prime Benefits and Why It's Worth It
Well now, Walmart just introduced free 2-day shipping, when you have a purchase of $35 or more. Of course, no membership is required.
Here's What Amazon Did
So then guess what … Amazon just lowered their free shipping minimum from $49 back to $35, to get free shipping without being an Amazon Prime member.
Keep in mind this Amazon free shipping minimum is not for 2-day shipping, it's generally a 5-day shipping time. The only way to get free 2 day shipping is with an Amazon Prime membership (which you can try for free for 30 days).
Walmart Free 2-Day Shipping
What do you think about Walmart's new free 2-day shipping offer?
Personally, I rarely have had my items from Walmart shipped to my home, because I've chosen to pick them up in the store when shopping Walmart online. I found – in the past – it was always free, and faster than shipping to my home, especially when I didn't meet the minimum for free shipping to my home.
It certainly will be interesting to see how this plays out, and if other retailers will make changes to their policy as well!
(Visited 449 times, 2 visits today)