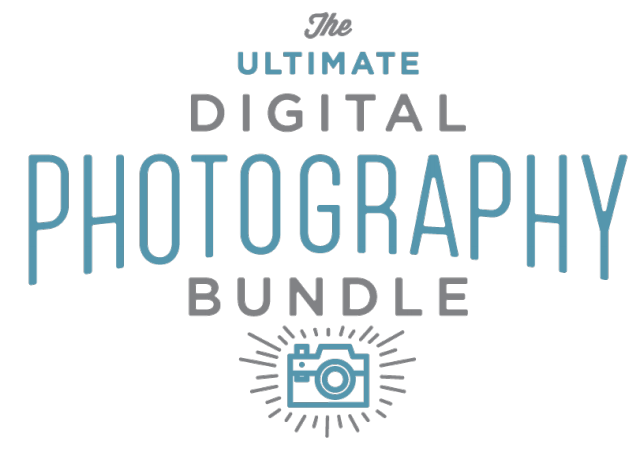 Photography to some is a hobby, to others – a passion, and to many – a business. No matter where your skill level lies, you can take it to an even higher level with easy-to-follow tips and tricks from experts, in the newly released Ultimate Photography Bundle.
Here is a breakdown of the three Ultimate Photography Bundles available, and a little about what's included in each.
All the resources have been provided by professional, world-renowned photographers who are experts in teaching others – even complete beginners. You won't need to switch up to a more expensive camera to make full use of the bundle (even if you just use your iPhone for photographs), and you don't need to neglect your family for weeks upon weeks of training! You can learn everything in little chunks – whenever you have a spare moment.
There's even better news! Everything in the bundle has a combined total value of $555, but for this week only, The Ultimate Bundles Team is selling the entire bundle for just $37 – a discount of more than 90%! What's more, they're also throwing in a FREE copy of FX Photo Studio Pro software from MacPhun (which provides stunning filters and photography effects) worth $29.99!
Here's a taste of just a few of the ebooks included in the
Beginner Bundle
:
Beginner Canon (also available for Nikon) Digital SLR (DSLR) Photography ($27.00) from JP Pullos at JP Teaches Photo
Tasty Food Photography ($29.00) from Lindsay Ostrom at Pinch of Yum
Seeing the Light: Making the Most of Available Light and Minimal Equipment ($12.00) from Mitchell Kanashkevich
The Key to Taking Pictures Like a Professional Photographer ($39.95) from Katie Evans at Key to Pictures
… and many more!
Intermediate Photography Bundle:
There are so many "photography for beginners" products out there, but when you have the basics down and can take a great snapshot most of the time, you don't need to be taught what the novices need to know – right? You already have those nailed! What you need instead are the resources that will help you take things to the next level. You want to take photos that make people's jaws drop.
If what I'm describing sounds like you, you'll want to check out The Ultimate Digital Photography Bundle (Intermediate Edition), a collection of ebooks, video training courses and software specifically for intermediate photographers (as you may have guessed from the name!) just like you. It's been curated by my good friends Ryan and Steph over at Ultimate Bundles, and everything inside it has been provided by professional, world-renowned photographers who are experts in teaching others.
The resources in the
Intermediate Bundle
have a combined
total value of $1,157
– but with this offer through June 29th you can get the bundle for
just $67
.
Here's a sample of some of the ebooks included:
All of the ebooks from Beginner, plus…
Mastering Lightroom: Book One (also Two and Three) – The Library Module ($11.00) from Andrew S. Gibson
Time Passages: Long Exposure Photography Strategies and Techniques ($7.95) from Richard Bernabe
Creative Texture Work ($12.00) from Denise Love at 2 Lil' Owls Studio
Photo Essentials: Exposure Guide ($10.95) from Katie Evans at Key to Pictures
… and many more!
Business/Pro Photography Bundle:
Every month, millions of digital photos are purchased online for use in websites, blogs, articles, marketing, materials and more. People like you are taking those photos… AND they're getting paid for them! They're making hundreds of dollars – and sometimes much more than that – per day.
If you truly love the idea of being a professional photographer but always believed it was out of your reach, the collection of resources in The Ultimate Digital Photography Bundle (Business Edition) contains all the tools and resources you'll need to start your own photography business NOW and create income with your pictures.
Inside the bundle you'll find a whole range of ebooks, video training and useful document templates from today's biggest names in digital photography – containing their secrets to not only producing stunning digital shots, but also their blueprints to building a profitable, sustainable business that puts money in your pocket on a consistent basis.
The massive
Business/Pro Bundle
: has a combined 
value of $2,036
! But with this special bundle you'll pay
only $97
!
Just a few highlights, and check here for the full list of what's in the bundle, including an additional $400 in bonuses:
All of the ebooks from Beginner and Intermediate, plus…
Family & Child Portrait Magazine ($69.95) from Alys McAuley at Paper Lark Designs
The Key to Natural Posing ($39.95) from Katie Evans at Key to Pictures
Illustrated Storyboards—Wildflowers Themed Series ($69.00) from Jessica Rose at Vol25 Digital Eye Candy
… and many more!
The Ultimate Photogrpahy Bundle is hot off the press now, and only available until June 29th!
(Visited 508 times, 6 visits today)