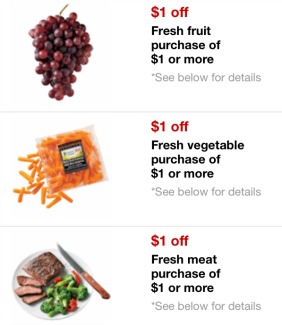 If you missed my money-saving tips this morning on Indianapolis' B105.7, here's the rundown!
I had a chance to try Green Bean Delivery last week, and we're slowly making our way through our bin! It's all organic and local produce, meat, dairy and some grocery items – but I like that they work with local Indiana farms – and it's surprisingly affordable! You can get a small produce bin for $35 and delivery is free. But if you want to give it a try I have a coupon code to save $15 off your first bin.
Another way you can save on produce this week is with bonus Target mobile coupons. You may already be signed up to receive their weekly mobile coupons, but if you text the word BLEND to 827438 you'll access a whole other set with $1 off fresh produce (includes organic!), $1 off fresh meat, Simply Balanced eggs, Green Works and Seventh Generation products and several more. These Target mobile coupons are good through 2/19/14.
~ ~ ~ ~ ~ ~ ~
If you'd like to hear audio from today and the past couple of weeks, you can visit my media page.
You may also like to poke around my recent Indiana deals, and my most popular categories online savings and printable coupons.
If you like these deals, you might like to subscribe by email or RSS for a daily recap. And be sure to follow me on Twitter and "Like" my Facebook page for extra tips that don't make it to a blog post!
This post may contain affiliate links. By using these links you support my site – thank you! See my disclosure policy.
(Visited 106 times, 1 visits today)