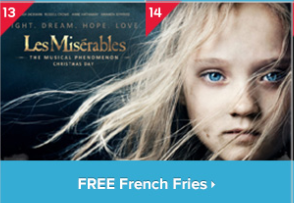 If you missed my money-saving tips this morning on Indianapolis' B105.7, here's the rundown!
Taylor's Bakery in Indy and Fishers is celebrating their 100th anniversary today! Stop in to either of Taylor's locations until 6pm tonight for a free dozen donut holes! And you've got to check out their beautiful 10-layer cake at their 62nd & Allisonville store which has photos for each decade of their business.
So this past weekend I went to see Silver Linings Playbook, and my friend and I got free popcorn (my movie ticket was also free, but I'll save that for another day). AMC Theatres is having different deals throughout February on the major blockbuster hits. I have to laugh because today & tomorrow if you see Les Miserables, you can print a coupon for free French fries. Next Sunday & Monday you can see the movie Lincoln for just $5. Print your coupons at AMC's Best Picture Showcase.
~ ~ ~ ~ ~ ~ ~
Find more great freebies and Indiana deals posted here recently! Tune in this Friday morning for Friday Freebies on B105.7 during Sean Copeland's morning show for more money-saving tips!
If you like these deals, you might like to subscribe by email or RSS for a daily recap. And be sure to follow me on Twitter and "Like" my Facebook page for extra tips that don't make it to a blog post!
(Visited 134 times, 1 visits today)