This post may contain affiliate links. By using these links you support my site – thank you! See my disclosure policy.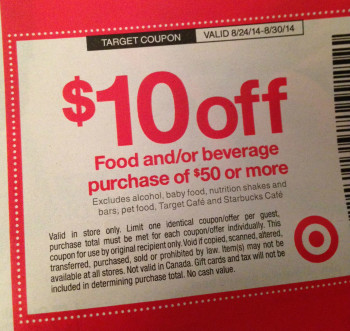 If you missed my money-saving tips this morning on Indianapolis' B105.7, here's the rundown!
A couple of decent printable coupons for Target and Staples. If you still have your ads from your Sunday Star, be sure to grab your Target ad and on the back is a $10 coupon off a $50 grocery purchase. And if you're signed up for emails from Staples, they released a $5 off $30 purchase coupon which is great for last minute school supplies or classroom donations. And as these are both store coupons be sure to have all your manufacturer coupons to stack with it
And you may be familiar with Ebates cash back rewards program, but there's another lesser known one that I just learned about, and guess what – the owner is right here in Fishers! It's called Sunshine Rewards, and you can earn cash back on purchases that you make when shopping online, as well as completing surveys and more.
Macy's has a new tool to manage your Macy's coupons and payment options, it's called My Wallet.
~ ~ ~ ~ ~ ~ ~
If you'd like to hear audio from today and the past couple of weeks, you can visit my media page.
You may also like to poke around my recent Indiana deals, and my most popular categories online savings and printable coupons.
If you like these deals, you might like to subscribe by email or RSS for a daily recap. And be sure to follow me on Twitter and "Like" my Facebook page for extra tips that don't make it to a blog post!
(Visited 478 times, 3 visits today)