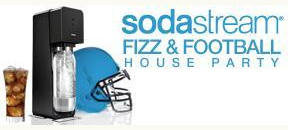 If you missed my money-saving tips this morning on Indianapolis' B105.7, here's the rundown!
Sign up to host a House Party for free. There are two house parties coming up in February that you can apply for, one is for Own brand skin care and the other is for Soda Stream. When you are selected to host a house party, you'll get a party pack with supplies and free products to sample and share with your friends. Just go to HouseParty.com to apply.
It appears the free Starbucks Blonde Roast coffee offer has already expired, bummer! If you're already getting my daily round-up of deals by email, then hopefully you took advantage of the freebie when I posted about it Monday. If not, sign up here to get all the coupons & money-saving deals I blog about wrapped in one handy email delivered daily around 5pm.
And there are 3 freebies at Staples this week after 100% back in Staples Rewards. When you purchase an 8-pack of Bankers Boxes (limit 2), Staples portable file boxes (limit 2) or Avery heavy duty binders (limit 4), submit your rebate form to get 100% back in Staples Rewards to use at a future visit.
~ ~ ~ ~ ~ ~ ~
If you like these deals, you might like to subscribe by email or RSS for a daily recap. And be sure to follow me on Twitter and "Like" my Facebook page for extra tips that don't make it to a blog post!
This post may contain affiliate links. By using these links you support my site – thank you! See my disclosure policy.
(Visited 166 times, 1 visits today)