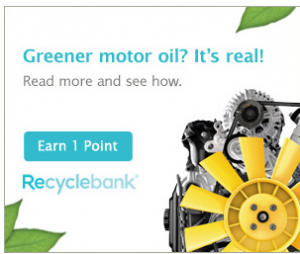 If you missed my money-saving tips this morning on Indianapolis' B105.7, here's the rundown!
Recyclebank is a fun way to earn rewards while learning about taking care of our planet. You can take quizzes and watch quick videos about the environment and living green, to earn points. Then use those points toward organic grocery coupons, restaurant coupons and more. Check it out at Recyclebank.com, and find more ways to earn rewards.
Just through tonight you can get a free appetizer or dessert at Chili's. Visit Chili's facebook page and look for the status update with a link to claim your offer.
Some quick back-to-school deals I saw this week … 1 subject notebooks are 17¢ at Target, Meijer and Walmart, Kids scissors are 49¢ at Walgreens, and at Staples you can get a 6-pack of Staples Remarx Dry Erase Markers for $1 (reg $6.79) and 8 ½ x 11 writing pads for a penny each with a $5 purchase! Find the best back-to-school deals for this week, and check back each week for more!
There may be more deals I've mentioned on Indy's B105.7 that are still available!
~ ~ ~ ~ ~ ~ ~
Tune in this Friday morning for Friday Freebies on B105.7 during Sean Copeland's morning show for more money-saving tips!
If you like these deals, you might like to subscribe by email or RSS for a daily recap. And be sure to follow me on Twitter and "Like" my Facebook page for extra tips that don't make it to a blog post!
This post may contain affiliate links. By using these links you support my site – thank you! See my disclosure policy.
(Visited 84 times, 3 visits today)