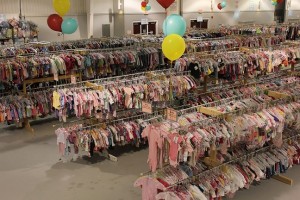 If you missed my money-saving tips this morning on Indianapolis' B105.7, here's the rundown!
If you're looking for HUGE deals on children's Fall and Winter clothing, toys, books, baby equipment, maternity wear and so much more, you have got to check out Indy Kids Sale starting tomorrow at the Hamilton County Fairgrounds in Noblesville. The sale goes through Saturday, which is ½ price day where most items are 50% off!  You can find out more about this sale AND how you can sign up to sell your stuff at the BRAND NEW Hancock County Sale Sept 27-29, at IndyKidsSale.com.
I had a tip from a reader that the Children's Museum is giving adult admission for the price of youth admission all month long. You'll need to print this coupon for the special pricing. Thanks Jenny!
And here's a HUGE freebie for Indiana Fever WNBA fans! They want to pack the house for their last two regular season home games, and are offering two FREE tickets to either this Friday night's (9/14) game or next Sunday 9/23.  Grab your two free tickets here, and please note there is a small Ticketmaster fee.
~ ~ ~ ~ ~ ~ ~
Find more freebies, deals for kids and Indiana deals mentioned here recently.
Tune in this Friday morning for Friday Freebies on B105.7 during Sean Copeland's morning show for more money-saving tips!
If you like these deals, you might like to subscribe by email or RSS for a daily recap. And be sure to follow me on Twitter and "Like" my Facebook page for extra tips that don't make it to a blog post!
(Visited 192 times, 1 visits today)