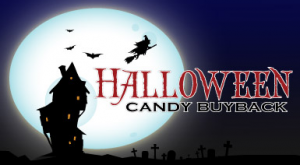 If you missed my money-saving tips this morning on Indianapolis' B105.7, here's the rundown!
Did you know there are dentist offices that will pay children for their Halloween candy, as an incentive not to eat so many sweets. Well I found a website called Halloween Candy Buy Back. Enter your zip code and find the nearest participating location – there are at least 10 around the Indianapolis area!  You can also donate your candy to military troops!
~ ~ ~ ~ ~ ~ ~
Miss any other Halloween deals or recent offers just for kids?
Tune in this Friday morning for Friday Freebies on B105.7 during Sean Copeland's morning show for more money-saving tips!
If you like these deals, you might like to subscribe by email or RSS for a daily recap. And be sure to follow me on Twitter and "Like" my Facebook page for extra tips that don't make it to a blog post!
This post may contain affiliate links. By using these links you support my site – thank you! See my disclosure policy.
(Visited 94 times, 1 visits today)