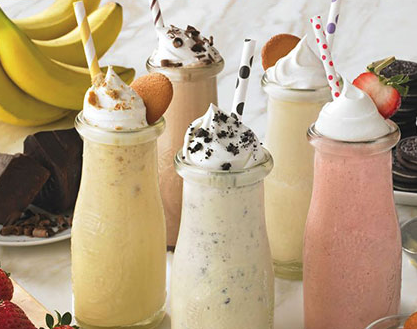 You'd think this was Friday Freebies a couple days early! If you missed my money-saving tips this morning on Indianapolis' B105.7, here's the rundown!
Outback is having a Milkshake Meltdown! Get a free mini-milkshake with entrée purchase at Outback all this week. Print your coupon here and use it by tomorrow 8/15/13 when it expires! Limit 2 free mini-milkshakes per table.
How about another FREE gallon of milk at Meijer? There's a new offer code you can plug into your Meijer MPerks account – this one is FREEGALLON. Use it by tomorrow 8/15/13, to get a free gallon of milk.
So not only can you get penny spiral notebooks and penny packs of tissues with a $5 purchase at Staples this week, but you can earn rewards for your child's teacher with their new Classroom rewards program. Teachers sign up at Staples.com, then share with parents. When the parents sign up, they select their teacher and begin earning 2% in rewards for their classroom, up to a maximum of $2,000 per year!
~ ~ ~ ~ ~ ~ ~
Tune in this Friday morning for Friday Freebies on B105.7 during Sean Copeland's morning show for more money-saving tips!
If you like these deals, you might like to subscribe by email or RSS for a daily recap. And be sure to follow me on Twitter and "Like" my Facebook page for extra tips that don't make it to a blog post!
This post may contain affiliate links. By using these links you support my site – thank you! See my disclosure policy.
(Visited 297 times, 2 visits today)