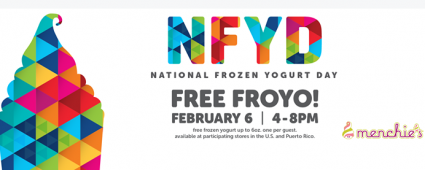 If you missed my money-saving tips this morning on Indianapolis' B105.7, here's the rundown!
National Frozen Yogurt Day is this Friday! Fill your bellies with a free scoop from Menchie's and BOGO at Orange Leaf Yogurt. As always, check with your local store to make sure they're participating.
The Entertainment Book, full of coupons on restaurants, retailers and entertainment, well it's on sale for only eight bucks AND it ships free, but this special sale ends tonight! The regular price is $35.
Mcdonald's Pay with Lovin' campaign kicks off this week, if you missed their Superbowl commercial basically random customers are chosen between 6am and 6pm now through Valentine's Day, and after they place their order they can choose to pay with lovin' instead – it could be a fist bump with the cashier, do a little dance, high five, you get the idea. Be sure to check back here at Chaos Is Bliss next week for a giveaway I'm hosting, to show you I love you too!
~ ~ ~ ~ ~ ~ ~
If you'd like to hear audio from today and the past couple of weeks, you can visit my media page.
You may also like to poke around my recent Indiana deals, and my most popular categories online savings and printable coupons.
If you like these deals, you might like to subscribe by email or RSS for a daily recap. And be sure to follow me on Twitter and "Like" my Facebook page for extra tips that don't make it to a blog post!
(Visited 190 times, 3 visits today)