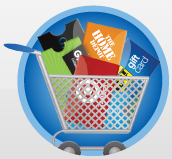 If you missed my money-saving tips this morning on Indianapolis' B105.7, here's the rundown!
If you've ever had money leftover on a gift card, or perhaps you receive a gift card for a store you don't shop at and you'd really just rather have cash, sell it on CouponTrade.com, a marketplace for buying and selling gift cards. It's free to join and even shipping is free when you purchase a gift card, and there's just a small commission fee charged when you sell a gift card. I saw gift cards for Kohl's, Victoria's Secret, Office Depot and several more!
At Walgreens this week when you spend $20 in Bayer or Aleve products you'll get $10 in Register Rewards to use on your next transaction. Grab the Smartsource insert from Sunday's paper and clip out the $3 coupon on Bayer Aspirin to cut your out-of-pocket cost even more.
~ ~ ~ ~ ~ ~ ~
Tune in this Friday morning for Friday Freebies on B105.7 during Sean Copeland's morning show for more money-saving tips!
If you like these deals, you might like to subscribe by email or RSS for a daily recap. And be sure to follow me on Twitter and "Like" my Facebook page for extra tips that don't make it to a blog post!
This post may contain affiliate links. By using these links you support my site – thank you! See my disclosure policy.
(Visited 246 times, 1 visits today)