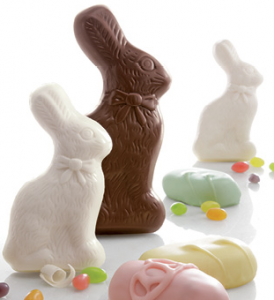 If you missed my money-saving tips this morning on Indianapolis' B105.7, here's the rundown!
Check your Sunday newspaper before you toss it in your recycling bin! The front of my Living section had a Fannie May coupon sticker good for $5 off an in-store purchase with no minimum purchase required. This likely was offered in other markets as well! Fannie May is offering free 2nd day shipping on online orders if you purchase today (no coupon code required (Mint Meltaways – yummmm).
Today is the last day you can get a dozen eggs for 33¢ at Meijer, here's how. They're on sale for 88¢ a dozen. Go to Incredible Edible Egg's Facebook page and print a coupon good for 55¢/2 dozen eggs. Meijer will match that up to $1, taking off 50¢ per dozen eggs, for a final price of just 33¢ each. Meijer's sale in the Indianapolis area runs Thurs-Wed, so if you live in a different area this price may have expired last Saturday.
Rickers which is an Indiana company operating BP and Marathon stations, is offering a new loyalty card called Rickers Rewards. Stop in any Rickers location and sign up for a Rewards card which will save you on in-store products and you can even link it to your checking account and use your card at the pump to save 10¢ per gallon on gas.
~ ~ ~ ~ ~ ~ ~
Tune in this Friday morning for Friday Freebies on B105.7 during Sean Copeland's morning show for more money-saving tips! And be sure to follow me on Twitter and "Like" my Facebook page so you don't miss a deal!
This post may contain affiliate links. By using these links you support my site – thank you! See my disclosure policy.
(Visited 277 times, 2 visits today)