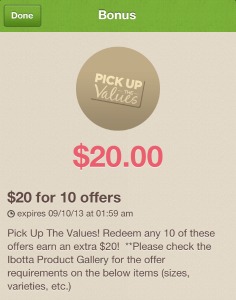 If you missed my money-saving tips this morning on Indianapolis' B105.7, here's the rundown!
I've talked before about Ibotta which is a coupon app for iphone and androids, well there is a new Ibotta offer just through September 10th, when you redeem 10 select offers like Kleenex, Huggies diapers and more – you'll earn $20! Learn more about Ibotta here and here.
Organic shoppers, head to Kroger.com and log in with your Plus Card, there are two new coupons totaling $3 off their Simple Truth line of organics, one is for fresh chicken and the other is for fresh beef, including grass fed. Load them both to your Kroger Plus card now because although it doesn't expire until 9/21, popular coupons like this can disappear fast
And because I love giveaways especially for local Indianapolis-area events, I have a giveaway that just started yesterday for tickets for your family to have fun at the St. Lawrence Fall Festival which is next weekend at 46th & Shadeland. You can enter the contest here. Keep following Chaos Is Bliss because on Friday I'll have a new giveaway up for a pair of tickets to the Children's Museum to check out their new Playscape!
~ ~ ~ ~ ~ ~ ~
If you'd like to hear audio from today and the past couple of weeks, you can visit my media page.
You may also like to poke around my recent Indiana deals, and my most popular categories online savings and printable coupons.
If you like these deals, you might like to subscribe by email or RSS for a daily recap. And be sure to follow me on Twitter and "Like" my Facebook page for extra tips that don't make it to a blog post!
This post may contain affiliate links. By using these links you support my site – thank you! See my disclosure policy.
(Visited 198 times, 3 visits today)