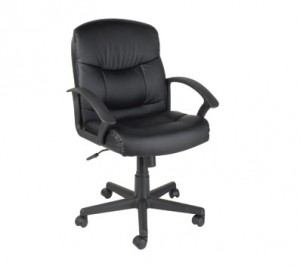 If you missed my money-saving tips this morning on Indianapolis' B105.7, here's the rundown!
The huge deals this week are at Office Max! How about a new black swivel chair for your home office, for just ten bucks after MaxPerks rewards? The price on the Glee II Mid-Back Manager Chair is $79.99, and you'll earn $70 back in Rewards. This was offered a few months ago, and I absolutely took advantage of it, the timing was perfect as we were needing a new office chair!
Would you like to win tickets to the Indiana State Fair?  Enter to win at these fellow Indy blogger contests, WritRams and Mom for Less.
~ ~ ~ ~ ~ ~ ~
Tune in this Friday morning for Friday Freebies on B105.7 during Sean Copeland's morning show for more money-saving tips!
If you like these deals, you might like to subscribe by email or RSS for a daily recap. And be sure to follow me on Twitter and "Like" my Facebook page for extra tips that don't make it to a blog post!
This post may contain affiliate links. By using these links you support my site – thank you! See my disclosure policy.
(Visited 216 times, 1 visits today)