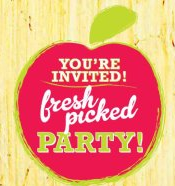 If you missed my money-saving tips this week on Indianapolis' B105.7, here's the rundown of what was mentioned!

Bath & Body Works Party: Tomorrow, head to Bath & Body Works for a Fresh Picked Party, anytime between 10-4! You'll get a FREE GIFTwith any Home Fragrance purchase, get a luxurious hand treatment plus you could win 1 of 8 custom Bath & Body Works Bikes!
FREE Facial Tissue: White Cloud is offering a coupon for a FREE box of facial tissue when you buy White Cloud bath tissue. This offer is available through White Cloud's Facebook page, and it's likely to go fast.
FREE Travel Size Renu: Print this coupon for $2.00 off Renu contact lens Solution. Then head to Target where you'll find travel bottles of Renu for just over $1.50. There is no size restriction on the coupon, which will make the travel size bottle FREE!
FREE Fries at Burger King: Stop by any participating Burger King tomorrow for a St. Patty's day treat of Free French Fries with Green Heinz ketchup!
 ~ ~ ~ ~ ~ ~ ~
Tune in next Wednesday on B105.7 during Sean Copeland's morning show for more money-saving tips! And be sure to follow me on Twitter and "Like" my Facebook page so you don't miss a deal!
(Visited 139 times, 1 visits today)