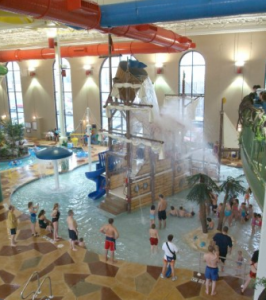 If you missed my money-saving tips this week on Indianapolis' B105.7, here's the rundown of what was mentioned plus Friday Freebies for tomorrow!

Caribbean Cove Hotel & Water Park
Plum District has a deal through 12/30/11 for a Sunday night stay at Caribbean Cove Hotel & Water Park for just $125 ($240 value). Use code FABULOUS for an extra 10% off. You can find more details on my earlier post or by checking out the deal on Plum District.
While on the subject of Plum District, they have several great Indy-area deals going on now, including 4 Kids Books & Toys in Zionisville and a Birthday Party at Indy Dance Academy. So be sure to check it out, and enter code FABULOUS for an extra 10% off!
Also if you "Like" Chaos Is Bliss on Facebook, scroll down and you'll find another way to score $10 in Plum dollars to use on any deal except Plum Steals.
 Blockbuster Express FREEBIE:
If you live near a Blockbuster Express kiosk, you can get a FREE movie rental just through today, 12/29/11. Use coupon code DOLLARMOVIE for your free rental.
Nature Made Vitamins $1.50 each:
Walgreens has Nature Made Vitamins on sale Buy One, Get One Free. Prices are around $4.79-4.99. Print a coupon for $1/1 Nature Made Vitamins, hit your browser's "back" button to print it twice. Use both coupons on your two bottles of vitamins to get them for around $1.50 each.
Use Your Coupons Before They Expire!
We're nearing the end of the month and the end of the year, so it's time to look through your coupon book and see what's expiring that you might want to use soon!  I cleared mine out yesterday riding in the car after visiting my parents. Don't throw away your expired coupons however, you can donate them to overseas military. Find out more at ocpnet.org.
You can always print coupons from Coupons.com, Redplum and Smartsource as well as use digital coupons with SavingStar and Cellfire.
Friday Freebies:  Sneak Preview of what you'll hear tomorrow on B105.7!
If you were snapping lots of pictures at Christmas, you can get 25 free prints at Walgreens now through December 31st. Just use coupon code PRINTNOW at checkout when you order your prints online.
Target has several coupons on their website for their Up & Up brand cleaning products. Use them to get scrubbers for free which are normally 99¢, or dryer sheets for just 36¢.  Thanks My Frugal Adventures!
You can get a free travel size Aquafresh toothpaste by printing a coupon for $1 off any size, then take it to Target or Walmart where they have travel size Aquafresh for under a dollar. You can hit the back button on your browser to print this coupon twice.
~ ~ ~ ~ ~ ~ ~
Tune in next Wednesday on B105.7 during Sean Copeland's morning show for more money-saving tips! And be sure to follow me on Twitter and "Like" my Facebook page so you don't miss a deal!
~ ~ ~ ~ ~ ~ ~
This post may contain affiliate links. By using these links you are supporting my site – thank you! See my disclosure policy here.
(Visited 293 times, 3 visits today)