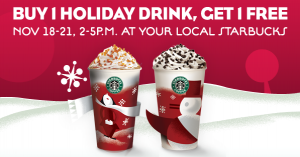 My husband called me as he was heading home from an errand on Saturday, said he was going to stop at Starbucks, and did I want anything?  Mmmmm yes a Peppermint Mocha please!  He made that 2 and enjoyed one himself. Starbucks is a luxury for us, we don't indulge super often but when we do, we thoroughly … and slowly … enjoy it!  For non-coffee drinkers, try their Peppermint Hot Chocolate for some minty chocolaty goodness!
November 18-21 from 2-5pm you can B1G1F on Starbucks' Holiday drinks!  These include:  Caramel Brulee Latte, Peppermint Mocha, Peppermint White Chocolate Mocha, Peppermint Hot Chocolate, Gingerbread Latte, Eggnog Latte, Caramel Brulee Frappuccino® blended beverage, and Peppermint Mocha Frappuccino® blended beverage.
Thanks, Queen of Free!
(Visited 87 times, 1 visits today)