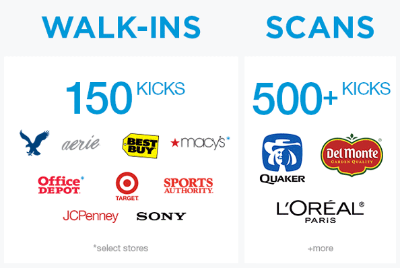 How many times a week do you pop into Target?
Do you run errands on your lunch hour – quick shopping trips, or maybe to make a few returns?
Earn rewards when you walk into your favorite store. Even without purchasing a thing.
There's an app for that.
It's called Shopkick.
Shopkick is a shopping app that rewards you in the form of "kicks" – like points – for doing as little as just walking into one of their participating retailers. You can increase your kicks by scanning select products; and if you choose to link up your Visa or Mastercard, you'll also earn kicks for the purchases you make, too.
Those kicks will add up fast – then redeem them for gift cards at your favorite stores!
How you Shopkick (yes, I turned it into a verb):
Get started with the free Shopkick app here.
Before you walk into Target, Macy's, JC Penney or other participating store, open Shopkick.
Shopkick's technology will be notified when you walk into a store (like the Bat signal!) and you'll see your kicks pop up on your smartphone. You may need to make sure your Bluetooth is turned on.
Once you accrue Kicks, you can redeem them for gift cards at Target, Starbucks, Macy's, JC Penney, Old Navy and several more!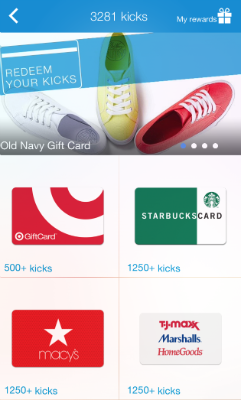 The hardest part (for me at least) is remembering to open the app before I walk in the store. I have actually turned around and walked out, opened the app, and walked back in – just don't want to miss any Kicks!
If you have trouble with your Kicks burst popping up (see above image, right) – tap the store on your screen and more info will appear. This happened to me at Macy's, and the instructions say to walk near an overhead sound speaker, where the 'magic signal' is strongest. Worked like a charm and I got my Kicks.
Do you Shopkick? What are your favorite stores to earn Kicks at?
Find more ways to earn rewards, and other great ways to save!
(Visited 295 times, 1 visits today)