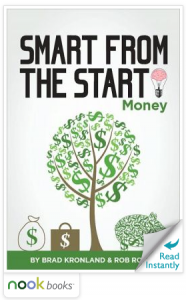 What can you give to a high schooler or recent grad that can help them learn how to make good money decisions for their next phase of life?
Smart From the Start
by Brad Kronland and Rob Roach of Fishers, Indiana is the perfect pocket guide to help young adults with all the do's and don'ts of their first critical financial choices:

Getting their first car – leasing vs. buying, pre-owned vs. new – and how to negotiate the deal
Deciding whether to rent an apartment vs. buy a house
Understanding the buying process, mortgages, and taxes in simple, easy-to-understand terms
Figuring out their insurance deductible, 401(k) options, investing and saving for retirement
… and so much more!
At the end of each chapter are easy definitions relating to the topic introduced. You also learn how "they" make money, whether "they" are the insurance agent, credit card issuers or other key players. All throughout the book there are tips from fictitious "Ted", who may not make the best decision but learns his valuable lesson, proving that even smart people make mistakes!
Here's an excerpt from the book:
How can insurance companies make a profit when they are constantly paying for their customers' car repairs or doctor bills? Insurance companies make a profit by collecting insurance premiums, investing those premiums in stocks, bonds, or other investments, earning money on those investments, and then paying claims with a portion of those gains. They are very good at projecting how many insurance claims will be filed during a year. They use this information to set their premiums, making sure they'll be more than the projected claims.
Read more about Smart from the Start in this recent Grad Magazine article.
Do you know a young person that will be faced with
their first financial decisions?
Buy It
Grab your copy now on Kindle or Nook for an instant download, or order it on paperback. If you're around the north Indy area, you can also find copies at Mudsock Books in Fishers. At just $9.95 digital or $12.95 printed, it is a smart investment for the young adult in your life to get easy tips and critical tools for their future from top financial professionals!
Win It
The authors of Smart from the Start have given me a copy of their book to give away to one lucky Chaos Is Bliss reader! The contest starts now, and ends at 9pm ET on Wednesday December 19, 2012. The winner will be randomly drawn, notified by email and will have 24 hours to confirm before another name is drawn.
How to Enter

Required Entry
1. Leave a comment with the answer to this question: What do you wish you knew about money when you were starting off on your own?
Extra Entries (optional)
**Please leave one comment for each optional method you complete to finalize your entry. You will receive (1) bonus entry for each optional method completed.
2. Subscribe to Chaos Is Bliss via e-mail or RSS AND confirm your subscription. Leave a comment letting me know you're a subscriber.
3. "Like" Chaos Is Bliss on Facebook below and leave a comment back here letting me know you're a fan!

4. "Like" Smart from the Start on Facebook below and leave a comment back here letting me know you're a fan!

5. Follow @ChaosIsBliss10 and @SmartStartBooks on Twitter AND tweet the message below! Leave a comment back here with a link letting me know you tweeted.

#Win Smart from the Start Book for Young Adults making their first #financial choices via @ChaosIsBliss10 http://tinyurl.com/dxmf4zl
Follow @ChaosIsBliss10
Follow @SmartStartBooks
Check out more great gift ideas posted here lately!
This giveaway is not associated with nor sponsored by Facebook. We hereby release Facebook of any liability. The contest is open to adults ages 18 and older. For each task you complete and comment on, you will gain one entry. Winners will be verified of completing the tasks listed prior to the winners being announced. One (1) winner will be selected at random using And The Winner Is. Duplicate entries and falsifying entries will be disqualified. The winner will be notified and given 24 hours to confirm. After this time if a winner is not confirmed, a new winner will be drawn.here.
(Visited 279 times, 4 visits today)