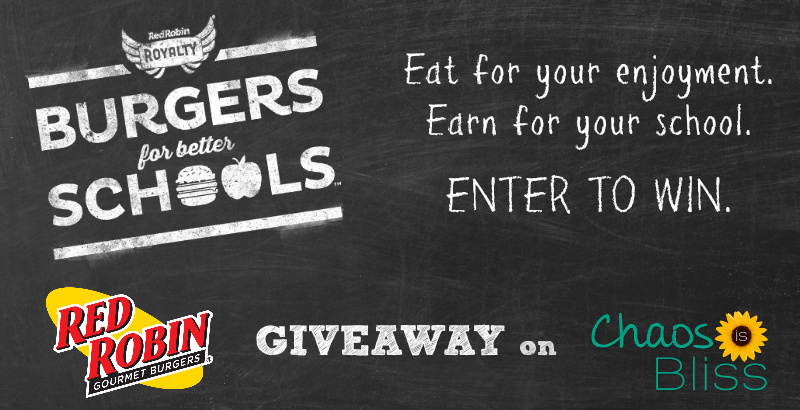 Recently I spoke to a MomsNext group (an extension of MOPS) and for a spontaneous giveaway, I asked the ladies if they would count how many rewards cards they currently had in their wallets. The one with the most, who won a little prize from me, had more than 50. Fifty reward cards she was carrying around!
I may not have that many, but I do have several. But with age comes wisdom, and with wisdom comes scrutiny. If I don't frequent a business more than a few times a year, I won't sign up for a loyalty card. Less frequent than that, let's face it – I'm just not that into you.
Red Robin on the other hand, is one of very few restaurants I'm loyal with. In particular, their Bruschetta Chicken Sandwich is the menu item I'm most loyal in ordering (totally a three-napkin sandwich). And bring your elastic-waist pants, because … Bottomless Steak Fries.
Red Robin Gourmet Burgers calls theirs a Royalty program, where you can earn surprises throughout the year, such as a free birthday burger, and every 10th item is free.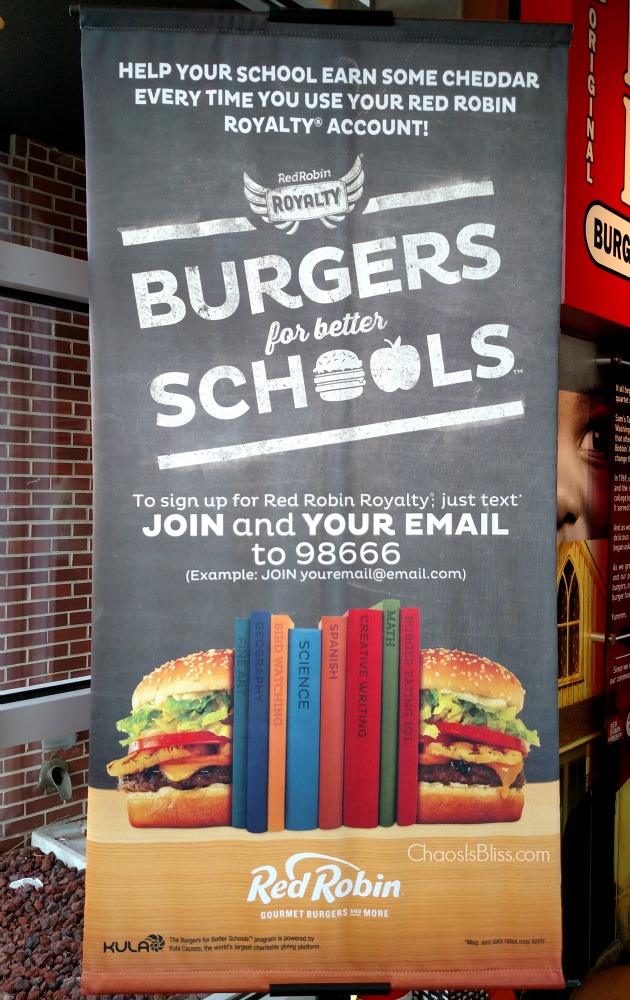 Burgers for Better Schools
To give back to local communities, Red Robin has launched the Burgers for Better Schools program, which is an extension of the Red Robin Royalty program.
When you join Burgers for Better Schools, Red Robin will donate 1% of your check to the school of your choice. It's that easy!
First you'll want to join Royalty Rewards (add your kids onto your account, and they'll get their own birthday treats!), then you'll be able to select your school.

Then present your card (or mention to your server that you're a member) and 1% of your check will be donated to your school!
Spread the word by sharing this post with your school's PTO group, and use this toolkit to print flyers to distribute to your school and access other sharable images.
You can even track your school's progress and see just how much will be donated to your school.
Tweet: Earn money for your #school with Burgers for Better Schools from @RedRobinBurgers http://ctt.ec/476ft+ via @chaosisbliss10
Giveaway
Red Robin has provided me with a huge $75 Red Robin Gourmet Burgers gift card to give away to one lucky Chaos Is Bliss reader! Check that there's a Red Robin near you, and enter with the Rafflecopter widget below.
The contest is open NOW, and ends at 11:59pm ET Wednesday, 10/7/15. Good luck!
a Rafflecopter giveaway
This information and gift cards have been provided by Red Robin, but all words and opinions are 100% my own.
Have you entered this other giveaway yet?
Also please stick around a bit and see what else I've been up to:
(Visited 836 times, 6 visits today)