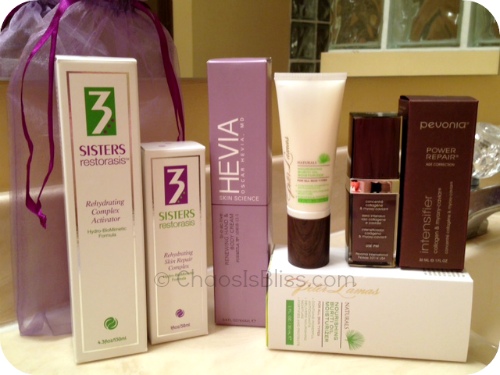 I have never been one to purchase the top-of-the-line skincare. I've been using the same brand for years, and for the most part it has worked well for me (at least I think, because nobody tells me "Hey you have wrinkles around your eyes", and I haven't taken a poll). I do believe that with some products – skincare being one – newer research, technology and anti-aging demands are directly related to price.
So me being the frugal person I am, I just haven't spent a lot on skincare.
I had the opportunity to test five different skincare products recently, and as I'm all about sharing, I'm happy to tell you about what I liked and didn't like.
3 Sisters Restorasis
Rehydrating Complex Activator – This is a fine mist that helps to re-hydrate damaged, neglected and aged skin. I lightly sprayed 2-3 times on my face, neck and decollete after cleansing in the morning. It was refreshing with a very light scent. You can also use it mid-day as a pick-me-up, however personally since I wear foundation and translucent powder, I just wouldn't want to spray even a fine mist; however applying first thing in the morning is a nice wake-me-up. Thumbs-up for me.
Rehydrating Skin Repair Complex – This product I most definitely can't say it has a light scent. Its scent is strong, and borderline offensive. The directions explain to apply the Skin Repair Complex after the Complex Activator, but it also says your face should still be moist from the Activator. Then you spray the Activator twice into your palm, and apply the Skin Repair Complex into your palm, mix the two into a "cocktail" and apply to your face. Warning, do not wear white if you are applying this to your face. The Complex is brown, in fact when I mixed the two in my hand it reminded me of a self-tanner. The color fades as you blend into your skin (and I'm about as fair complected as they come, so I would have noticed had it not). I understand that the two products are designed to work together which many skincare companies would agree, to see optimum benefits it's best to use products from the same line. The product is described as a "Hydro-BioMimetic, self-sterilizing, all-natural lipid complex" targeting damaged, neglected and aged skin. The package insert indicates it can be used in mornings and evenings, but even though I could possibly get used to the smell, I can't add a 2-step process into my daily routine, much less twice daily. Thumbs-down for me.
Hevia Skin Science
Renewing Hand & Body Cream – I really liked this cream. I smoothed it onto my hands and arms and it left such a soft, powdery feeling; and I also really enjoyed the light floral scent. It has super anti-oxidant Red Mangrove Extract (repairs), Shea Butter (heal/nourish) and Trans-Resveratrol (anti-aging benefits). Thumbs-up for me.
Peter Lamas
Nourishing Buriti Oil Moisturizer – I applied this moisturizer before applying my makeup in the morning, and again after cleansing at night. The scent is a little … different – not offensive at all, but not floral – I would describe it as sterile. Definitely could be used by men because it's not a feminine scent in the least. The yellow lotion contains vitamin-rich Buriti Oil and antioxidants formulated to rehydrate and strengthen skin. This is the thickest of the lotions I have sampled, and while it is for all skin types and could be applied day or night, I would opt for using it at nighttime because for me, it's not sheer enough for me to wear under makeup. Thumbs-up for me.
Pevonia Power Repair Age Correction
Intensifier Collagen and Myoxy-Caviar – This bio-microemulsified gel is designed to be applied at night, when your skin cells do their best repair work while you sleep. It is designed for to repair visible fine lines on deeply dehydrated skin. I have yet to witness if my fine lines are less visible, but since I don't eat caviar I'm going to wear it. Well not really, but "Caviar Extract" is one of the main ingredients, which has moisturizing and emollient properties (who knew?!). Thumbs-up for me.
As of publishing time, I did not have information on pricing or availability.
Find out more about these products at their respective brand websites which are linked above, and if you're new to Chaos Is Bliss, I would invite you to join my email list, follow on Facebook and Twitter so you can have access to more product reviews and money-saving tips.
I was provided with a sample of each product to test and review. All opinions are 100% mine. For more information please see my disclosure policy.
(Visited 404 times, 20 visits today)