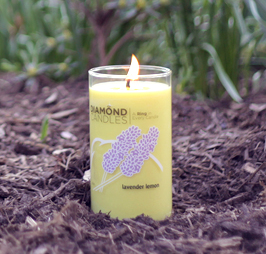 At first glance I wasn't especially excited about this offer (do I really need another candle?), and now that it's expiring tonight at midnight I finally got around to checking it out. Apparently these are selling like hotcakes!
At Plum District right now you can get a Diamond Candle, all-natural soy candle with a ring inside for just $15 ($25 value)!
Here's the thrill-of-the-hunt part … The inside of each lightly scented candle contains a ring, valued at $10, $100, $1,000 or even $5,000! They're even made with all-natural, earth-friendly products. Here's a quick video about Diamond Candles.
You may purchase 2 deal vouchers per person. May not be combined with other offers. Flat $5 shipping per candle. Limit 1 voucher per transaction. Voucher expires 12/23/12.

Find more great online deals and see if you're signed up for daily deal sites like Plum District!
This post may contain affiliate links. By using these links you support my site – thank you! See my disclosure policy.
(Visited 215 times, 1 visits today)