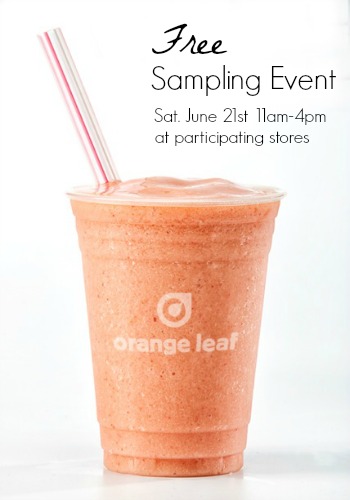 My daughter's softball team has finished their regular season games, and is headed into the tournament this weekend. At a fun adults vs. kids practice this week, the coach was ending the practice and had just a few minutes to run one last drill. He shouted out, "What do you girls want to do?" and one yelled, "Orange Leaf!" to which the rest of the team chimed in their agreement.
Orange Leaf Yogurt is a family favorite after softball as there's a location just past our fields. My kids, of course, load up on toppings (their creations make no sense to their dad and I), and they seriously make a 5-napkin mess with drips of chocolate sauce and melting frozen yogurt.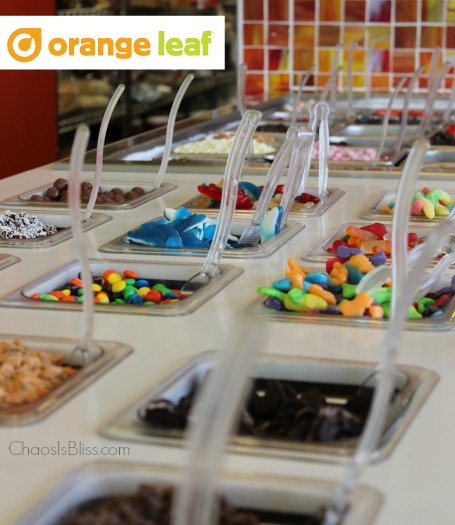 Now that Orange Leaf has just introduced self-serve smoothies, I can sip on the fruity deliciousness while my kids get their sugar fix on gummy worms and Boba balls.
To celebrate the new Orange Leaf smoothie sensation, visit one of the 21 participating Indy and surrounding area Orange Leaf Yogurt locations this Saturday June 21st from 11am-4pm and enjoy a FREE 5 oz sample of new Orange Leaf's new Smoothie. You can choose from one of two flavors:
Pineapple Strawberry Banana Smoothie – A refreshing blend of Dole pineapple soft-serve, real strawberries and bananas, this low fat, low calorie Smoothie is also vegan and gluten free.
Peanut Butter Banana Smoothie –A delicious blend of vanilla froyo, fresh milk, peanut butter and real bananas, this gluten-free Smoothie is a protein-packed, pick-me-up treat.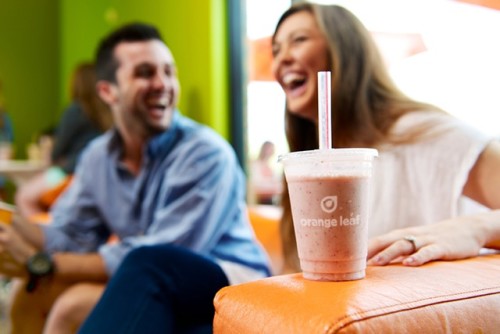 Not in the Indy area? No worries! Orange Leaf will start serving Smoothies nationwide in July. In the meantime, no matter where you live in the U.S., you can have a chance to win one of two $10 Orange Leaf gift cards right here, right now!


Orange Leaf Gift Card Giveaway
Orange Leaf has provided me with a $10 Orange Leaf Yogurt gift card to give away to two lucky Chaos Is Bliss readers!
The contest starts NOW and ends next Wednesday night, 6/25/14. Good luck!
a Rafflecopter giveaway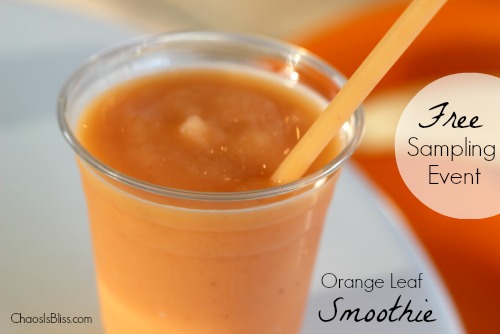 This post was sponsored by Orange Leaf, but as always, my words and my love of frozen deliciousness are 100% my own. See my

disclosure policy

for more info. Contest is open to U.S. adults ages 18 or older. This giveaway is not associated, nor sponsored by Facebook. The giveaway is being hosted by Chaos Is Bliss. For each task you complete, you will gain one entry. By clicking the green "I did this!" buttons you are confirming that you completed the task. You are also agreeing that you are entering on your own free will, and are interested in winning. Winner will be verified of completing the tasks listed prior to being announced. Two (2)  winners will be selected at random, duplicate entries and falsifying entries will be disqualified. So don't say you commented and yet you didn't. K? Winners will be notified by email and will have 24 hours to respond. Should a winner not respond in the time allowed, another name will be drawn.
(Visited 625 times, 2 visits today)