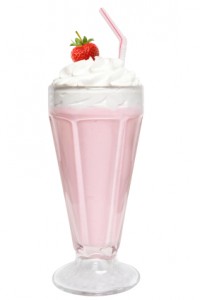 Much of the country has been under a heat advisory for several days. We hit 105 yesterday in Indianapolis and I just really feel like sticking my head in the freezer. Since June is National Dairy Month, what better way to end the hottest and driest June with a tasty, frosty & frothy milkshake!
Everyone knows (don't they?) that a milkshake is made with milk and ice cream, plain & simple.
For a boost in flavor, texture, and yes, even some vitamins too – try adding in one or more of the following:
1/2 Cup Fresh berries or peeled & sliced peaches
1 Tbs Flax Seed
1/2 Cup Greek Vanilla Non-Fat Yogurt
Skim milk instead of 2% of whole
1/4 Cup granola or trail mix
2 Tbs Peanut Butter or Nutella
For the kids … food coloring! You can even divide the milkshake, color each differently, then layer into a glass.
Indiana's Family of Farmers provided me with a bountiful bag of goodies to help my family try many new and familiar dairy treats for National Dairy Month.
I even learned a few things I didn't know about Indiana's connection to Dairy …
There is a dairy farm in each of the 50 states. Indiana has 1500 of them.
A whopping 98% of Indiana's dairy farms are family-owned.
2012 is the Official Year of the Dairy Cows at the Indiana State Fair.
Indiana ranks 2nd in the nation in low-fat and regular ice cream production.
And how about these fun facts about cows …
Cows drink a bathtub-full of water every day!
Cows can use their sense of smell up to six miles away!
Cows are creatures of habit and don't like change. You might hear an impatient "Moo!" to tell the dairy farmer he or she is running late!
Find out more about National Dairy Month with Milk Facts, Recipes and more from Indiana's Family of Farmers and The American Dairy Association of Indiana.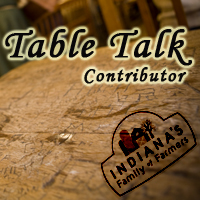 Are you a Hoosier? You might like some recent Indiana deals & discounts. Also take a look at other recipes I've shared.
(Visited 436 times, 8 visits today)