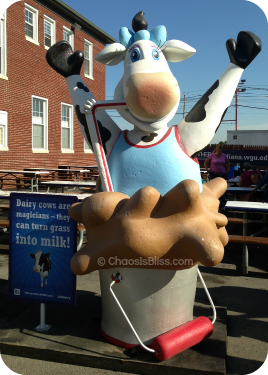 Each year when I visit the Indiana State Fair, it's a treat to visit the American Dairy Association of Indiana's Dairy Bar and grab a chocolate milkshake. This year was no exception, but there is one new feature on the Dairy Bar's menu for 2013: The Blue Moo Grilled Cheese, featuring American and Blue Cheese on Sourdough!
Whether you're snacking on yogurt, cheese sticks or frozen custard from the Indiana State Fair Dairy Bar or fresh from your fridge, the important take-away is that you're consuming nine (9) essential nutrients for optimal health: calcium, potassium, phosphorus, protein, vitamins A, D and B12, riboflavin and niacin.
One of the family farms that produces dairy products for Indiana and beyond is All Wright Farms in Delaware County. As an Indiana Dairy Ambassador, I had the privilege to speak with dairy farmer and (he's especially excited about this newest title) Rookie Milkman of the 98th Indianapolis 500 next year, Alan Wright of All Wright Farms!
All Wright Farms
In this case, "family farm" is referring to the dairy farm ran by Alan's parents, Alan and his three brothers. Believing it was important for their kids to see there's a world beyond the family farm, Alan's parents insisted that each of their children get a college degree. Whether it was for agriculture or aviation (which one of Alan's brothers studied) or whatever, they all earned their degrees from Purdue University (my alma mater as well!).
All Wright Farms has 220 dairy cows and 2,800 acres of crops. Their milk is sold through a co-op, who markets it to brands like Dannon and Prairie Farms.
Alan was gracious in my naive line of questioning, some I'm too embarrassed to admit here. But regarding how they treat their cows, basically most dairy farmers live by their own version of the Golden Rule …
Treat them well today, and they'll treat you well tomorrow.
In other words, tomorrow's milk production can be a direct result of how well the cows were taken care of today!
As I mentioned earlier, Alan is honored to have been chosen to be the next Rookie Milkman of the Indianapolis 500! The (official) Milkman for next year is Ken Hoeing, who was last year's Rookie, and in 2014 will get to present the milk to the 500 winner at Victory Lane. Alan will be nearby, a milkman-in-training of sorts. He will present milk to the car owner and crew. Then the following year Alan will be THE Milkman of the 500! You can find out more about the history behind this important Indianapolis tradition.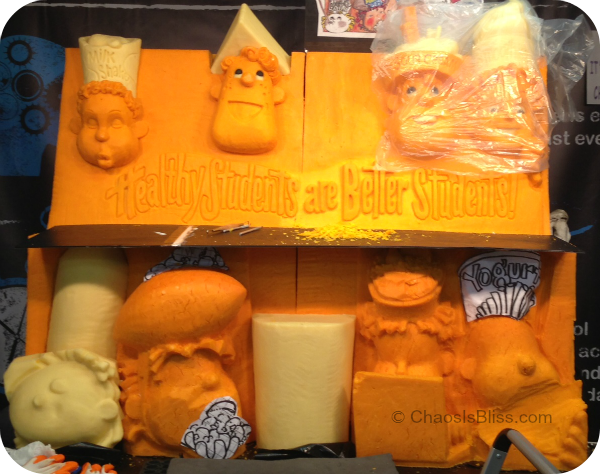 If you'll be visiting the Indiana State Fair before it closes shop on Sunday, here are some fun dairy happenings you can see every day!
Cheese sculpture: This annual Fair tradition is on display in the Dupont Food Pavilion, and this year highlights the importance of childhood nutrition and starting your day with an energizing breakfast!
Food demos: Every day at 2 p.m. in the Dupont Food Pavilion, let Indiana Dairy's master chef show you how to prepare some delicious recipes!
Daily Parade: See the dairy float in the State Fair's daily grand parade, every day at 6:30 p.m.
One last tidbit I especially thought you might be interested in: Indiana Dairy is hosting a sweepstakes on their Facebook page, giving away $500 in Milk, Yogurt, Cheese and other nutritional groceries! Enter to win here. Contest ends 8/19/13.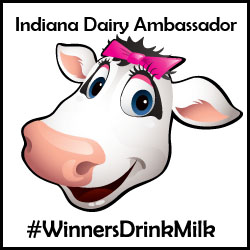 You may also like to take a look at these related posts:
Sponsored by Indiana Dairy. As always, my words are 100% my own. For more information please see my disclosure policy.

(Visited 433 times, 4 visits today)