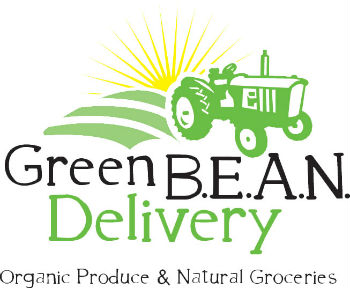 Back in December I attended a launch party for Edible Indy magazine, and had an opportunity to walk around the tables of supporting vendors. I stopped by the Green Bean Delivery table – I've had friends that were members, but I had never tried them out before. They invited me to sample a Small Produce Bin which arrived earlier this week – I was so excited to see what was inside!
First, Green Bean makes shopping easy. I was happy to see such a variety of organic and locally sourced fruits and vegetables. I received apples, pears, grapefruit and mangoes, as well as red potatoes, onions, garlic, bib lettuce, carrots, cauliflower and bok choy. Ideas were spinning on what fun meals I could create, although I had to hop on my Facebook page and ask readers was what the heck do I do with bok choy. I'll be including it in a stir fry for dinner tonight.
This is what a Small Produce Bin might look like: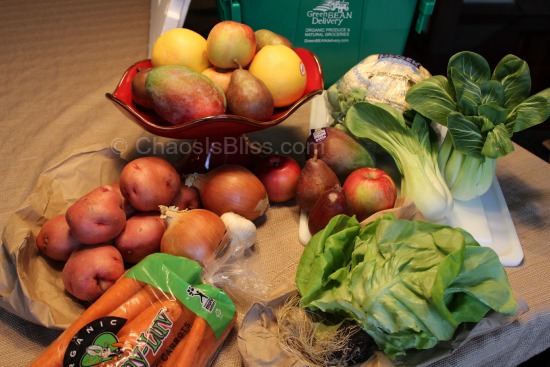 But to start, it was packed very well, with a large ice pack in a styrofoam-lined hard plastic reusable bin. The produce inside was packed with care, delicate items were in lightweight plastic bags and potatoes and onions were in paper sacks.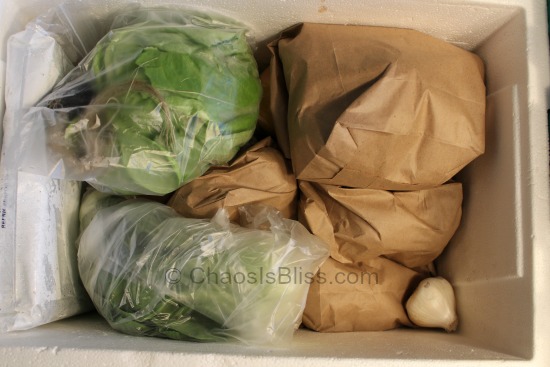 So far we've had a couple of the apples and pears, mango (great in a smoothie!), bib lettuce in a salad (our guinea pigs like that too), and last night I made Rosemary Parmesan Potatoes.
And seriously – can it get any more fresh than roots and soil left on the lettuce?!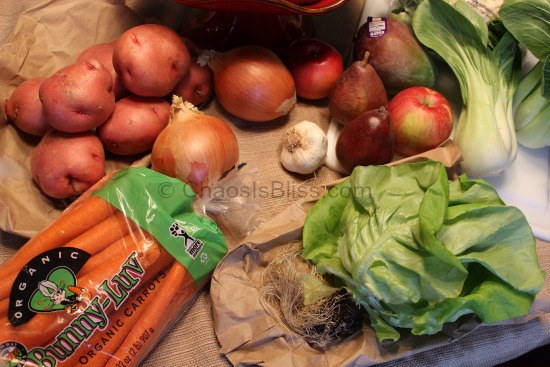 Green Bean works with local farmers and artisans, so you have the freshest organic produce and natural groceries! Yep – you don't have to only receive produce – you may also mix in some of their grocery products – bulk products, dry goods, dairy, beef (free of hormones and antibiotics), frozen foods and more. You'll recognize national brands like Amy's Kitchen, Organic Valley, Chobani, Cascadian Farm and many more; and local artisans (in the Indiana region) like  Fischer Farms, Smoking Goose, Scholars Inn Bakehouse and many more.
What you need to know:
Green Bean Delivery currently delivers to select cities in Indiana, Ohio, Kentucky and Missouri.
The minimum bin order is $35 and delivery is free!
You can customize your order so you don't get too many random items that you don't know what to do with, or if you have food allergies or aversions.
You may select your delivery weekly or bi-weekly (that's fancy for "every other week", I always have to look that up), and if you need to cancel an order, you may do that too.
Green Bean Delivery Coupon Code
If you'd like to give Green Bean a try, I have an exclusive coupon code for you to save $15 off your first order!
Use Green Bean Delivery coupon code 15CIBml at checkout.
Hurry, you only have until next Saturday (1/25/14) to use it! Offer good for new members and reactivations only.
You may also like:
(Visited 310 times, 4 visits today)