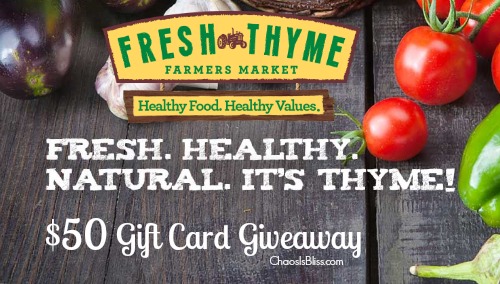 UPDATE: This giveaway is now closed. Congrats Karen C.!
Growing up on the south side of Indy, I became friends with a girl in high school whose parents purchased a corner lot of a vacated gas station and turned it into a fresh produce stand. That was 25 years ago (oy), and the last time I was down there, it was still going strong.
At the time, I didn't know a thing about organic produce, all-natural this and gluten-free that. But today? I'm getting schooled. And when you have such great resources available these days to learn more, you have no reason not to take an interest in your health, the environment and the future.
Healthy grocery stores have made a boom in the Midwest in the last 10 years, and the latest to enter the market, Fresh Thyme, is up against some competition for sure. It is the first natural & organic store of its kind to the area, and Indy southsiders have been begging for an alternative to big box retailers for their organics.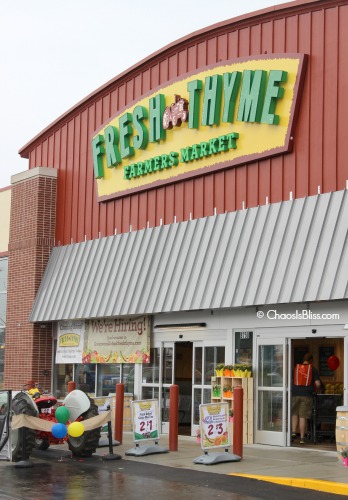 Fresh Thyme opened their second store (the first in Mount Prospect, IL) south of Indianapolis in Greenwood, and looks very promising to be an affordable farmer's market with the look and feel of a grocery store. Or is it a grocery store with the look and feel of a farmer's market? You decide.
With fresh fruits & vegetables comprising 30% of their sales, it's no wonder their produce section looks like this: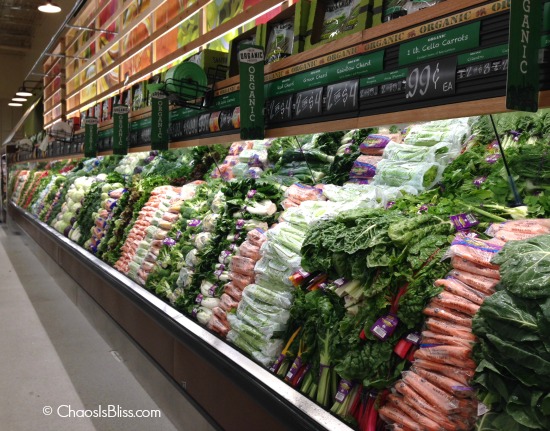 … with every stalk, every nectarine, every green bean hand-inspected and hand-stacked.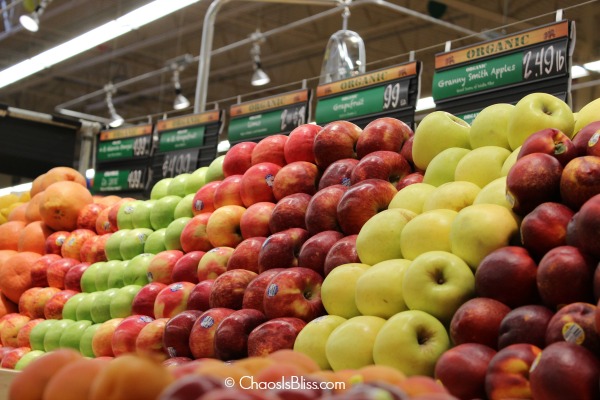 This attention to detail makes the entire produce department catch your eye as soon as you walk in the store. Ok, and I was seriously almost afraid to touch anything for fear of a truckload of fruit toppling down on me.
While they currently only have a small offering of local foods, that is a goal they're hoping to increase as they add more stores. Speaking of adding more stores – take note, they have a plan to open 60 stores in the Midwest over the next 5 years, the next on the northside of Indy on 82nd Street.
Here are a few more helpful hints before you visit Fresh Thyme for the first time, and read on for a $50 Fresh Thyme gift card giveaway!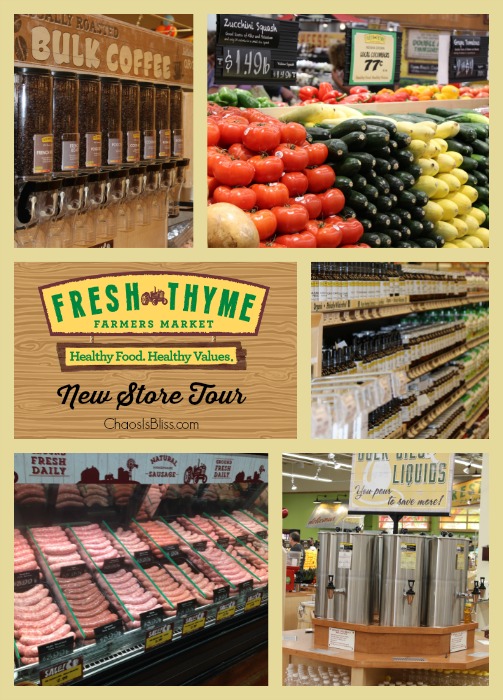 Fresh Thyme Fresh Facts
Here is a sampling of what you'll find at Fresh Thyme:
More than a dozen varieties of fresh sausage made in-store, every day, using natural meats and seasonings with no MSG.
A meat department with all-natural, grass-fed and organic varieties, as well as sustainably sourced seafood. And know what else you'll find? Elk, venison, boar, bison and deer.
An overwhelming selection of 300 bulk grains, beans, nuts, trail mixes, many of which are natural and organic. Add to that Midwest-roasted bulk coffee (fair trade and organic), sweets, and bulk oils/liquids such as EVOO, organic agave nectar and all natural honey.
Many local craft beers, with the option to grab a 6-pack of your favorite singles to try for just $9.99.
A full dairy section featuring many Midwest products, including gluten-free and dairy-free options.
A massive 7,000-item health aisle with natural body care, vitamins and supplements.
And best of all … you'll find all of Fresh Thyme's offerings affordable. Sale items on some organic items might cost the same or lower than conventional.Want to save even more? Go on Double-Ad Day. For Greenwood, that's Thursdays: The sale ad from the previous week is extended through Thursday, and the next week's ad begins on Thursday, giving you double the savings!
Take your time browsing the store, grab a meal-to-go or salad in the Fresh Thyme Kitchen, and talk with the staff. Fresh Thyme hires employees that not only want to work there, but live the whole, healthy lifestyle – making them more knowledgeable about the products they sell.
Fresh Thyme Grand Opening Events
Fresh Thyme grand opening events for Thursday, June 12th include a grocery giveaway to the first 250 customers in the door, balloon animals and face painting for kids, live music and more fun! Plus continuing through Sunday will be lots of samples and giveaways. Be sure to pop in on Sunday, June 15th from 12-3 to see my friend Heather over at Basilmomma give a live cooking demonstration with Q&A's!
Fresh Thyme $50 Gift Card Giveaway
To celebrate the opening of their Greenwood, Indiana store, I'm so excited to offer you the chance to win a $50 Fresh Thyme Gift Card!
This contest is open to Indiana residents only. The giveaway begins NOW and ends at 11:59pm next Wednesday, 6/18/14. Good luck!
This is a sponsored post and giveaway on behalf of Fresh Thyme, but as always my opinions and words are 100% my own. For more information please see my disclosure policy.

(Visited 3,014 times, 9 visits today)