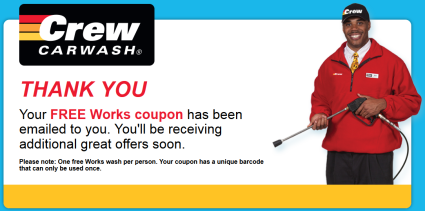 Heads up! This offer is still available at least for Crew, although the Mike's Express offer page does not specify that you receive a free car wash when you sign up.
Fill out the short form to join the Mike's Express or Crew Carwash email lists, and receive a welcome email with a coupon for a FREE carwash!
If you live in the Cincinnati area, Dayton, Ft. Wayne, South Bend, Evansville, Florence, you'll want to sign up for the Mike's Express email list.
If you live in the Indianapolis area, Lafayette/West Lafayette, Kokomo, Anderson, Columbus, Terre Haute you'll want to sign up for the Crew Carwash email list
Freebies like this one go quickly, some may even be gone by the time you read this!  Be sure you're a fan of Chaos Is Bliss on Facebook so you get fast notice when deals like this come available!
(Visited 6,495 times, 58 visits today)