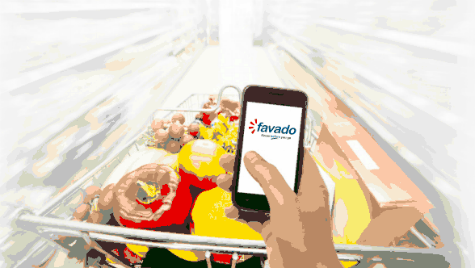 Many coupon bloggers post store "matchups", which means they painstakingly take the time to go through grocery and drug store ads and find coupons either from newspaper inserts or printable coupons, that "match up" with sale items to save consumers big bucks on their grocery trips.
Personally, I haven't provided store matchups on Chaos Is Bliss yet, simply because it is a very time-intensive task.
And as it turns out, I may not need to ever work up store matchups for you.
Because Favado will do it for us.
I'm thrilled to learn of this new app that will help us save at grocery stores, and tell us exactly which store will have the best deal any given week, with coupons to match!
Read on to learn more about Favado …
How Favado Works
Sign up for Favado here. It's FREE!
Once your account is active, you'll be able to select the stores that you shop, localized to your area. This includes grocery stores like Kroger, Marsh, Meijer, Trader Joe's, Whole Foods and more; plus superstores like Target, Walmart and even Costco; and many more stores!
Then can choose to select the brands and products you typically purchase and add them to your "Favorites":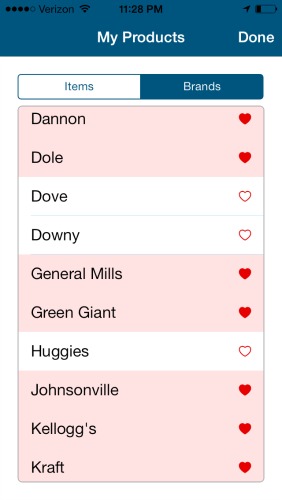 When you touch the store at the top, it will bring up sale items for that week. A paperclip denotes that coupons are available to match with the sale!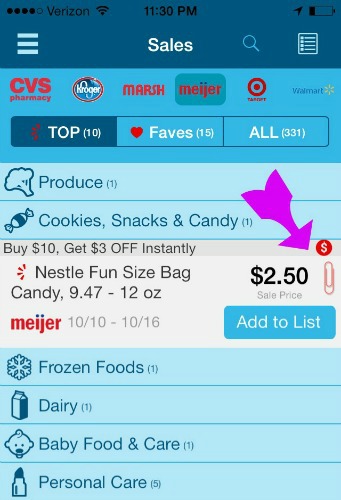 If you touch the paperclip, you'll get further details on the coupons available, like this:
To print coupons, simply touch "Add to list" then email your list to yourself and print from home.
And while you're shopping from your list, you can even cross off items that you've placed in your grocery cart!
Here's a fun video that shows how Favado works…
That's it!
So let's get started…

Don't forget to also get maximum savings with the Ibotta app, which works like a rebate after you've done your shopping.
This post contains affiliate links. By using these links you support my site – thank you! See my disclosure policy.
(Visited 651 times, 6 visits today)