Arugula flatbread with chicken, pears, blue cheese and a made-from-scratch honey lime dressing pairs so nicely with a glass of crisp white wine for an outdoor dinner with your family or friends!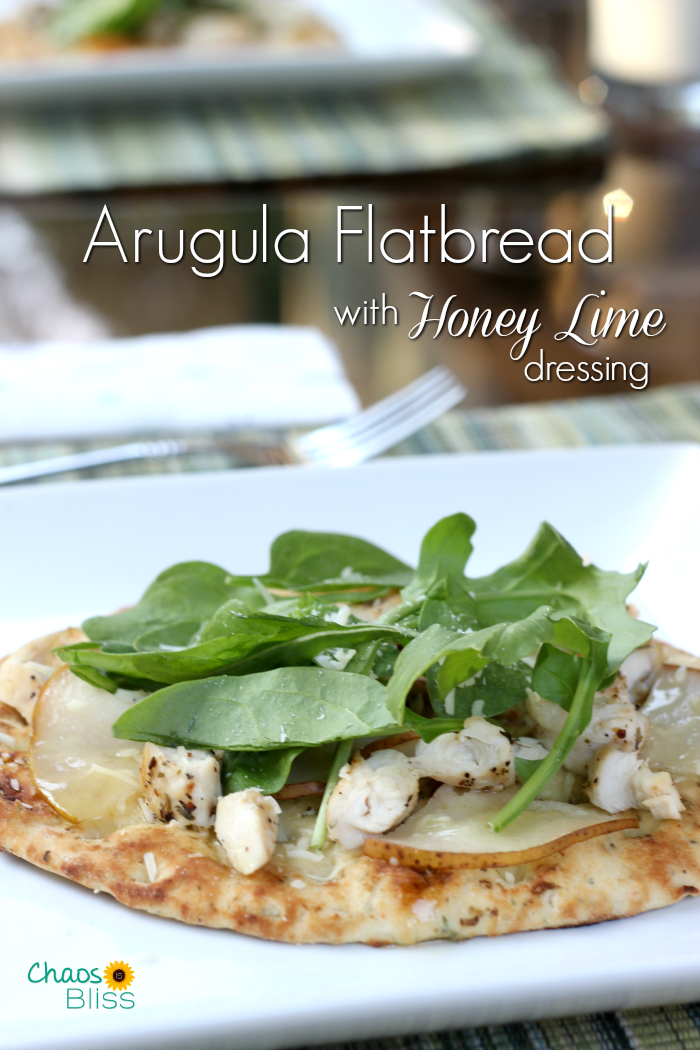 For my ingredients I tried something new to me – Curbside Express by Giant Eagle. Learn about this time-saving online grocery shopping convenience and continue on below for my delicious dressed-up arugula flatbread recipe!
Do you ever get tired of making the same meals for your family, rotating between the same meat & potato dishes every week? That's SO me!
I'm making a point to try new easy dinner recipes, and any possible way I can skip a step, or create a shortcut, I'll do it.
Curbside Express
Remember when curbside pickup was a new thing? After a year into a global pandemic, it's safe to say most of us are very familiar with grocery delivery and curbside pickup.
Not far from me is a huge, beautiful Market District store, which is a part of the Giant Eagle brand (as is Get Go, which also offers Curbside Express). I toured Market District when it first opened, and last week I wanted to try Curbside Express since I was in between meetings and didn't have a lot of time to shop in-store.
How to shop Curbside Express
You can set up your Curbside Express order online from your desktop, or from your smart phone.
First, set up a free account or log in if you already have a Giant Eagle or Market District account.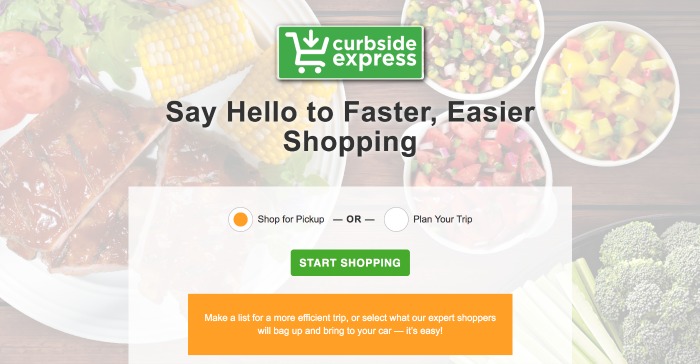 Choose which store you want to pick up from. Add the items on your shopping list to your Curbside Express cart, and go to checkout.
You'll be prompted to select your pick-up time and choose to either pay ahead online, or when you pick up your order.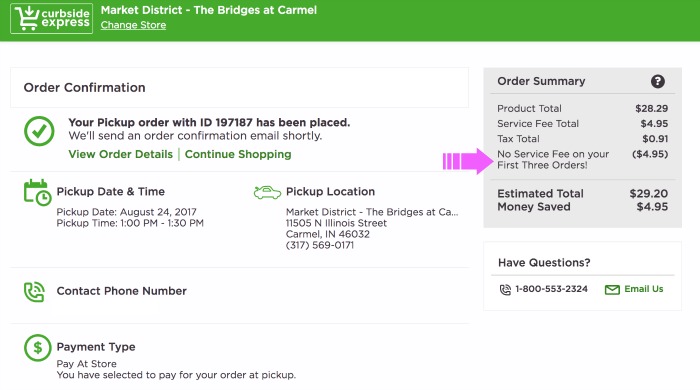 If you see where the arrow is on the image above, you won't pay any service fee on your first three orders!
When you arrive, there is a designated parking area just for Curbside Express shoppers, and a parking sign with directions to call the phone number listed.
A Curbside Express picker hand-selects your groceries, and will bring your order right out to you and even load it in your trunk! I can see this as being convenient for large or heavy items, and what a help that is for shoppers that may have difficulty lifting.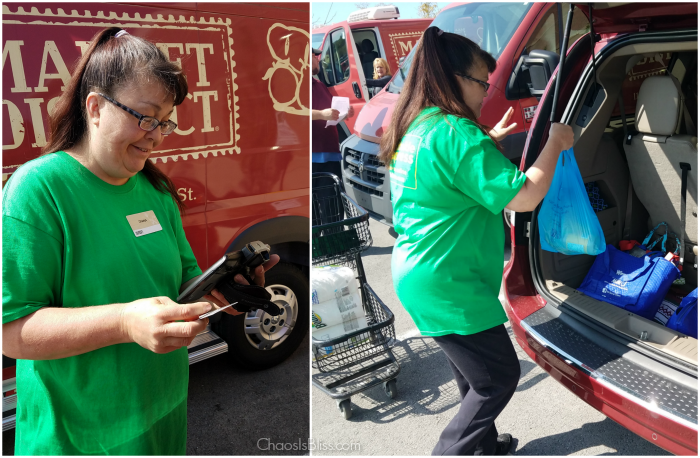 As soon as I got home I unloaded, my order was perfect, and my cold items were just the right temperature, even my fresh chicken and produce.
They even surprised me with a little bonus freebie!
Trying Curbside helped me manage my time tremendously, and if you're like me and need every spare minute to get back to your family life – then you'll want to try Curbside Express for yourself. Ordering groceries online helps you stay in control of your grocery budget.
Here's my arugula flatbread recipe that I made with my Curbside Express order!
Arugula Flatbread Recipe
Ingredients for this arugula flatbread include:
4 flatbread or naan (they may also be called "flat wraps")
2 Tbs olive oil
1 package boneless, skinless chicken tenders
1 pear, sliced thin
1/2 cup blue cheese crumbles
2 cups arugula (I used an arugula-spinach blend)
Honey Lime dressing (recipe follows)
1/4 cup shredded Parmesan cheese
Directions:
Preheat oven to 375°.
Grill or cook chicken tenders in skillet, seasoning as desired. Cut into bite-size pieces.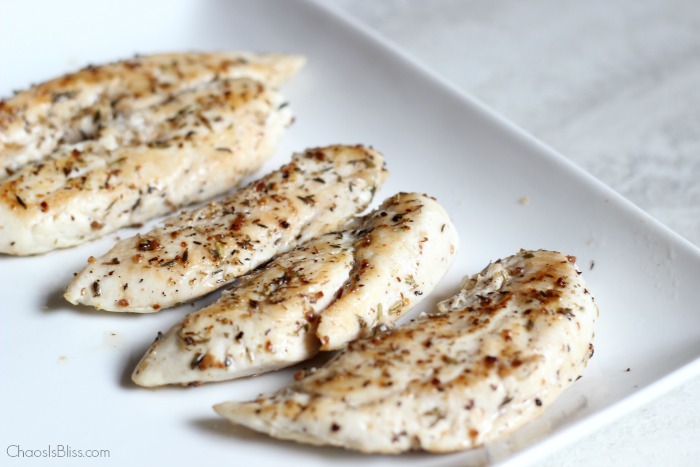 Brush olive oil onto each flatbread.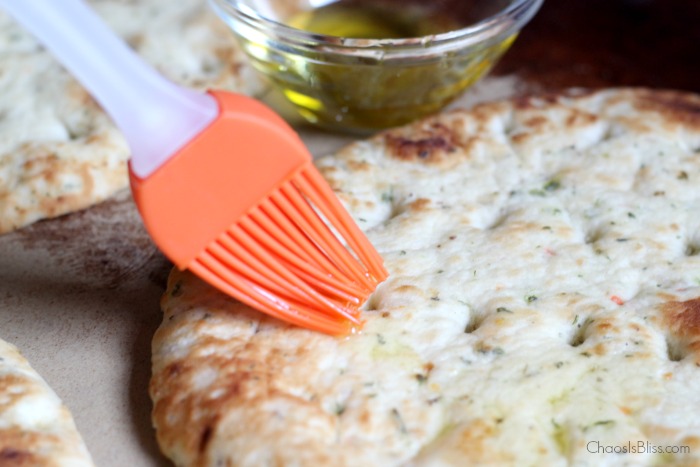 Scatter bite-sized cooked chicken onto flatbread. Sprinkle with blue cheese, and lay pear slices evenly.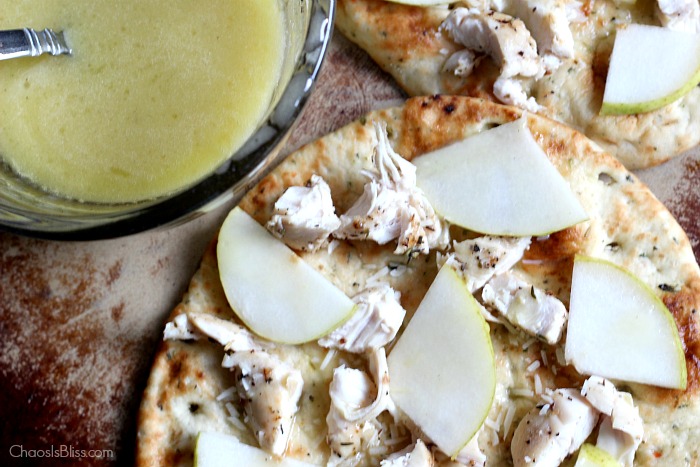 Drizzle Honey Lime dressing generously onto each flatbread.
Bake at 375° for 10-12 minutes.
Top with fresh arugula, and sprinkle with fresh Parmesan cheese. Serve immediately.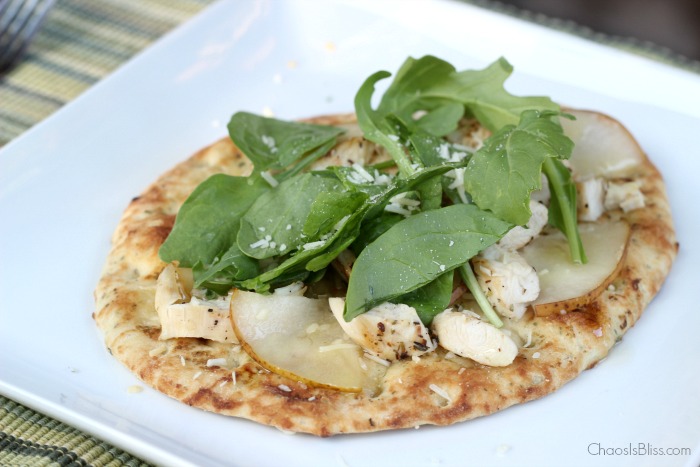 Honey Lime Dressing
Ingredients for Honey Lime dressing include:
1/4 cup lime juice
3 Tbs honey
1 Tbs Dijon mustard
Salt and pepper to taste
1/8 cup olive oil
1/8 cup canola oil
In a blender or in a bowl using a hand mixer or wire whisk, mix first 4 ingredients. Slowly pour oils in a thin stream while blending, to fully incorporate. Blend well with hand blender or wire whisk.
This post was originally published August 28, 2017.
You might also like this Fish Piccata recipe, also inspired by another trip to Market District: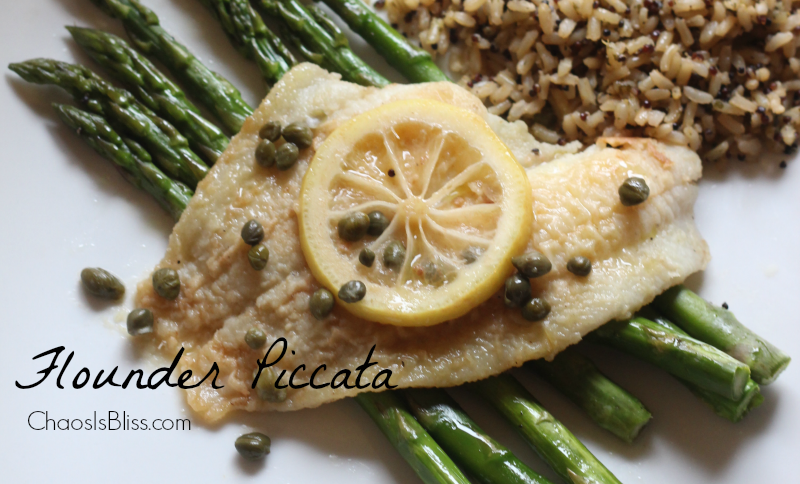 (Visited 7,208 times, 14 visits today)