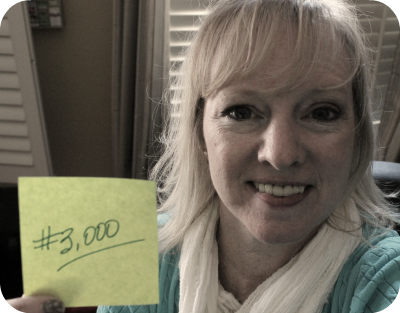 Well. Here we are. My 3,000th post!
I don't really think that when I wrote my 1,000th or 2,000th post that I paid any attention that a milestone was achieved. Some bloggers celebrate their 10,000th Facebook fan or their "blogiversary". They have a mega giveaway, lots of hoopla and promotion, when really I wonder … do readers even care?
My friends and family might think it's kind of neat that I've written 3,000 blog posts. Let's face it – that's a big number!
But to the average reader (wait a minute, y'all are beyond "average", don't get me wrong!) – I honestly think you could care less, you'd rather I just get on with it – another great deal, a sweet freebie, or maybe another Pin-worthy recipe.
So I'm not going to write anything profound. No life-changing words of wisdom that will make this post go viral. I'd just like to hit 'publish', and take Carlie to Taco Bell. It is Friday, you know. Let's start the weekend!
I also think it's been a while since I've done a giveaway, so what the heck?!
Let's give something away.
And since I don't have a stockpile of amazing gifts to give, I'll spread my love of all things Target with a $30 Target gift card to give away!
The contest will run now through next Thursday 3/20/14 at 11:59pmET.
a Rafflecopter giveaway
This post was not sponsored by Target, or anyone really. Just me. Contest is open to adults ages 18 and over, U.S. only. For each task you complete, you will gain one entry. By clicking the green "I did this!" buttons you are confirming that you completed the task. You are also agreeing that you are entering on your own free will, and are interested in winning. Winner will be verified of completing the tasks listed prior to the winners being announced. One (1) winner will be selected at random; duplicate and falsified entries will be disqualified. The winner will be notified and given 24 hours to confirm. After this time if a winner is not confirmed, a new winner will be drawn.
(Visited 272 times, 2 visits today)