This post was sponsored by Indiana's Family of Farmers. All opinions and my love of wine are 100% my own. See my

disclosure policy

for more info.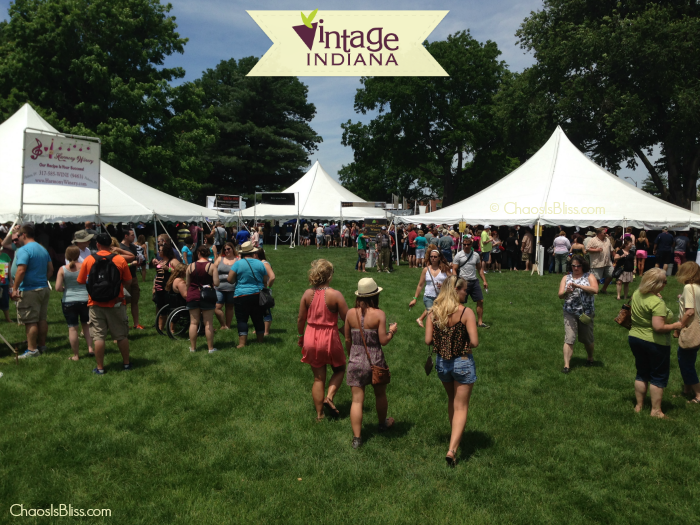 Vintage Indiana: A Festival of Wine, Food and Fun

Oh, friends!! Perhaps the summer's best, most-looked-forward-to, don't-make-plans-after-6:00-unless-it's-plans-for-a-nap event is next weekend in Indianapolis!
The 16th annual Vintage Indiana Wine Festival happens next Saturday, June 6th at Military Park in downtown Indianapolis. It is the state's largest wine festival featuring locally crafted wine. Thirty Indiana wineries will sample their award-winning and fan favorites to a crowd of thirsty wine aficionados from around the Midwest!
Last year I shared some new features that were added, that have returned for 2015's festival, such as a partnership with nonprofit dots in blue water, which helps to provide clean water to rural areas in Haiti. A portion of every Vintage Indiana ticket sold will go to support this organization, in effect turning wine into water!
As this is my 6th (?) year attending Vintage, I have a few tips on how to maximize your fun:
Come prepared.
Book your babysitter, as this event is for adults over 21 only. Bring your lawn chairs, even a pop-up canopy for some shade if you'll be staying all day. Bring your sunglasses, sunscreen, a wine yoke if you have one, and I'd recommend skipping a bulky purse and instead use a lightweight backpack or small messenger bag. You'll want to have one hand free (because of course your other one is holding your wine glass) for picking up the sampling list from each winery, and making notes on your preferences once you've sampled.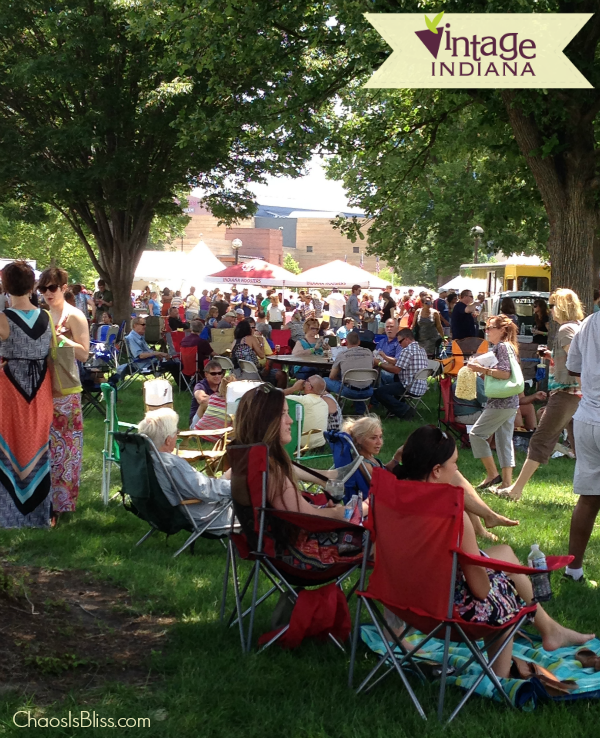 Take your time.
In fact, get yourself ready an hour early, and enter at 11:00am with a Early Admission pass so you have little or no crowds to start your afternoon (limited to the first 1,000 sold). In addition to an hour of earlier entry, you'll also enjoy a special free wine glass and other goodies! Plus you can stake your claim to the best seat in the house in front of the music stages. Thanks to Indiana's Family of Farmers for sponsoring the VIP hour.
I like to start my sampling at the tents on the south side of the park, which are less crowded. Regardless, have grace and patience with the volunteers and workers – they're working hard to serve those free samples!
Enjoy. Responsibly.
Sip away, but please drink responsibly. Designated drivers have reduced admission price and enjoy unlimited free soft drinks.
You may not have time to visit every winery represented, so I would encourage you to try those you're unfamiliar with (or that you can't find in stores). Step out of your comfort zone a bit! If you're the fruity white wine type, try a red like Marechal Foch from Ertel Cellars in Batesville, IN. I enjoyed it enough to purchase a bottle. I was thrilled to see they're returning this year!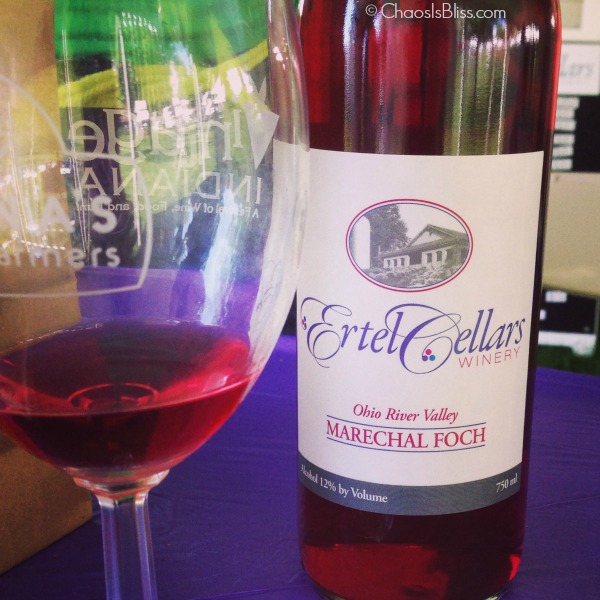 Eat. Irresponsibly.
Kind of kidding on that, but enjoy these food vendors thoroughly, and no one will even notice if sauce is dripping down your chin. They'll think it's the wine.
What else?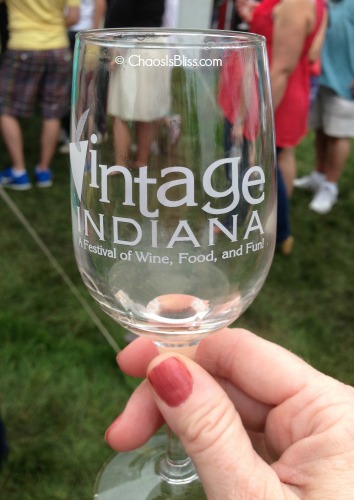 Vintage Indiana takes place at Military Park, downtown Indianapolis on Saturday, June 6th from 12:00-6:00pm
Advance tickets are $25 and available at Marsh Supermarkets or online through Vintage Indiana.
Enjoy wine sampling of more than 300 wines, although I do *not* recommend you sample all 200. Please.
Kick back and listen to live music on the open stage, including Zanna-Doo, Living Proof and Jennie DeVoe.
Visit the Wine & Food Experience Pavillion for food and wine sessions with chefs and winemakers.
Receive a fun souvenir Vintage Indiana etched tasting glass if you're among the first 10,000 through the gates
Really? Is that all?
You may also like to check out: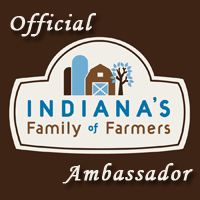 (Visited 1,226 times, 9 visits today)