I was a lucky lady when I was invited by the  Queen of Free to participate in a Verizon Wireless review on Droid phones!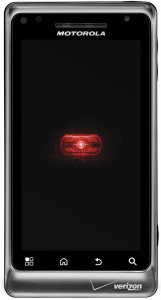 I have been trying out the Droid 2 by Motorola. Now friends, I have a confession. I have been in the dark ages when it comes to phone technology. No email, no internet, not even texting (GASP!).  My husband and I have been wanting to get smartphones for a while, and thanks to being able to try out the Droid 2 for a month, we have finally taken a step into this decade and purchased our very own.
All that said, I don't have a good point of reference to say the Droid phones are better than (name your brand), because let's face it, I've had the same flip phone since 2005! So it's all new to me.
What I can tell  you, is this:
Dang, this phone is pretty cool.
The Droid 2 offers both a touch-screen keyboard, and a flip-out keyboard. I like having this option, so if I'm emailing something more lengthy than "p/u milk", I can type it out with my thumbs on the flip-out keyboard.  The Droid X is all touch-screen, so if you're coming from an iTouch, you might be used to a touch screen and that will do it for you.
Both keyboards are QWERTY. I had no clue what that meant, then I looked down at my keyboard and saw those 6 letters all in a row. It means it has the letters laid out typewriter-fashion, just like how you learned them in 6th grade typing class.
One cool feature my husband finds handy – with the built-in microphone, you can use an app to record your voice digitally.  So for instance, you're at a stoplight and can't fumble around to find pen and paper. Record a memo and play it back when it's needed.
I can text, email, navigate with the built-in GPS, surf the web, watch TV shows, take pictures, take video, listen to Pandora radio, plug in my earbuds & listen to MP3's, and so much more.
The folks at the Verizon Wireless store were so helpful, they can answer just about anything – and I had a lot of questions!  When you get your new phone, they even offer workshops to help you figure out how to use it. Or there are online learning tutorials if you'd rather muddle through it on your own.
The price tag on the Droid 2 is roughly $149.99 after a $100 MIR. Check your local Verizon Wireless store to see what kind of in-store promotions they're currently offering. We were able to get a B1G1. I would also suggest you compare other retailers' prices and bundles, and see who is willing to price match. It never hurts to ask.
Disclosure:  I was not paid to write this review, and all opinions are 100% mine. I had the privilege of trying out a product, and it will be returned at the end of the review period. See my full disclosure policy if you like that kinda thing.
(Visited 222 times, 1 visits today)