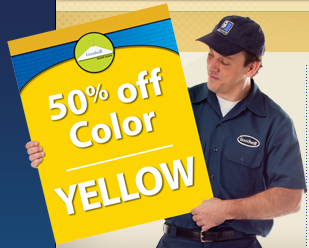 If you missed my money-saving tips this morning on Indianapolis' B105.7, here's the rundown!
Today I talked about ways to save even more at Goodwill!
50% Off Color – Look for colored tags that can save you as much as 50% on select items every day. This week through Sunday 6/29 at central Indiana Goodwill stores, the 50% off color is Yellow – items with yellow tags or barbs are 50% off.
99¢ Sundays – And if a yellow tag item is around on Sunday, you'll get it for just 99¢! Each week, that week's colored tag items are just 99¢ on Sundays. Let's say original price was $4, it has a yellow tag this week so you can get it for $2, or on Sunday, $.99!
1st Saturday 50% Off – Once a month the whole store goes 50% off, on the first Saturday of each month (the next one will be July 5th),  all used items are 50% off.
Facebook Friday Coupons – You may have seen me post this on Thursdays, but Goodwill offers Facebook Friday coupons for fans to print on Thursdays, and use it all day Friday for 20% off purchases of $20 or more. Check back here tomorrow for a link to print this coupon!
Goodwill Outlet Stores – There are three Goodwill Outlet stores around Indy that sell clothing, housewares, books and more by the POUND. So like, dishes are $0.29/lb. Shoes in pairs are $1.49/lb. And again, the first Saturday of the month even at the Goodwill Outlet stores, they have a Blowout sale for 50% off or more – dishes are just 9¢/lb!!
Find out all the details on how to save at Goodwill here.
And I'd love to hear from you – what amazing deals have you scored at Goodwill? And have you ever attempted the Outlet store on the first Saturday? Do share!
~ ~ ~ ~ ~ ~ ~
If you'd like to hear audio from today and the past couple of weeks, you can visit my media page.
You may also like to poke around my recent Indiana deals, and my most popular categories online savings and printable coupons.
If you like these deals, you might like to subscribe by email or RSS for a daily recap. And be sure to follow me on Twitter and "Like" my Facebook page for extra tips that don't make it to a blog post!
This post may contain affiliate links. By using these links you support my site – thank you! See my disclosure policy.
(Visited 292 times, 11 visits today)