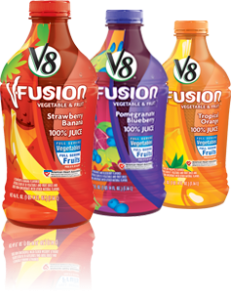 If you missed my money-saving tips this morning on Indianapolis' B105.7, here's the rundown!
If you've tried V8's VFusion Smoothie, you'll know you've got a healthy mix of fruits and vegetables which is great when you have picky eaters. You can get a 36 ounce bottle at Target this week for only 69¢. Stack the $1 printable coupon on Target's website with the $1 manufacturer's coupon in the Smartsource coupon insert from the October 14th paper. That takes the $2.69 sale price down to just 69¢! Take a look at more recent grocery deals and coupons. Thanks Totally Target!
Pier 1 Imports has a daily dealy printable coupon on their Facebook page. Now even though it won't expire for a couple of days, you'll want to print it now because tomorrow it will be replaced by a new coupon. Here are more retail coupons to help you save!
Rebates are a great way to get a little cash back in your mailbox. Crayola has a holiday rebate where you can get up to $38 dollars back by purchasing select Crayola supplies and craft projects between now and December 31st. Print the rebate form here. Thanks Northern Cheapskate!
~ ~ ~ ~ ~ ~ ~
Tune in this Friday morning for Friday Freebies on B105.7 during Sean Copeland's morning show for more money-saving tips!
If you like these deals, you might like to subscribe by email or RSS for a daily recap. And be sure to follow me on Twitter and "Like" my Facebook page for extra tips that don't make it to a blog post!
(Visited 195 times, 1 visits today)