Photo credit: Goodwill Indy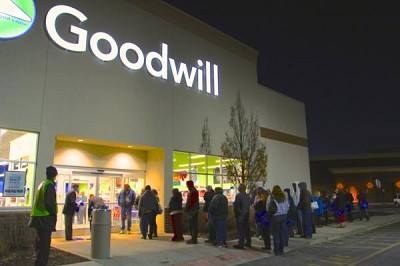 If you missed my money-saving tips this morning on Indianapolis' B105.7, here's the rundown!
This Saturday head to one of Indy's several Goodwill stores, because the first Saturday of every month is half price day! Just come armed with a little patience, as it can get kind of nuts! Here are more ways to save at Goodwill.
I found this interesting, this is for Costco shoppers and I would bet it's true for Sam's Club too, according to the author of The Science of Shopping, some of the worst buys are on the endcaps, at the end of aisles. For the best deals, you'll want to stick to those middle sections which are dubbed "action alley", and brands pay a premium to be in that spot so there's a lot of competition driving the price down in those middle areas.
~ ~ ~ ~ ~ ~ ~
If you'd like to hear audio from today and the past couple of weeks, you can visit my media page.
You may also like to poke around my recent Indiana deals, and my most popular categories online savings and printable coupons.
If you like these deals, you might like to subscribe by email or RSS for a daily recap. And be sure to follow me on Twitter and "Like" my Facebook page for extra tips that don't make it to a blog post!
(Visited 262 times, 2 visits today)