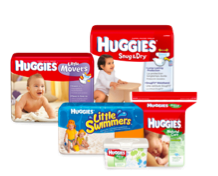 If you missed my money-saving tips this morning on Indianapolis' B105.7, here's the rundown!
Savingstar is a coupon website where you link your grocery store's loyalty card – like your Kroger Plus Card or Marsh Fresh Idea card – and instead of presenting a coupon at checkout, you clip the coupon on the web and present your store card. Your cents off accumulate and payout in a lump sum through Paypal when you reach at least $5 (think of it as a rebate). Right now one of the bigger rewards at SavingStar is $5 back when you purchase $35 in Huggies diapers, wipes or swim pants. Sign up for SavingStar and clip this reward, but make sure to use it today before it expires!
In the Office Max insert in Sunday's paper there was a coupon for a 4-pack of Expo dry erase markers which knocks the price from $5.79 down to just a dollar. Anyone with school-age kids knows these are in hot demand come August, so clip that coupon and pick some up for Office Max for a jumpstart on school supplies.
~ ~ ~ ~ ~ ~ ~
Tune in this Friday morning for Friday Freebies on B105.7 during Sean Copeland's morning show for more money-saving tips!
If you like these deals, you might like to subscribe by email or RSS for a daily recap. And be sure to follow me on Twitter and "Like" my Facebook page for extra tips that don't make it to a blog post!
This post may contain affiliate links. By using these links you support my site – thank you! See my disclosure policy.
(Visited 199 times, 1 visits today)