This is a sponsored post written by me on behalf of DICK'S Sporting Goods . All opinions are 100% mine.
The Jersery Report by DICK'S Sporting Goods tells you how teams and players fare in popularity, based on jersey sales.
Wearing your favorite sports jersey has become a status symbol. You're on a seriously different level, because of that jersey. It's your good luck charm. Maybe you don't wash it the entire season, for fear of jinxing your team.
When your team's about to play, and you're slowly pulling your jersey on … something magical happens. Your mood lifts, and hope springs eternal.
Hope that your boys will bring home a W.
The Jersey Report
The Jersey Report by DICK'S Sporting Goods can be looked at as a popularity contest, of sorts. It ranks player jerseys based on online and in-store sales data, with categories like offense, defense, rookies, teams and overall.
Here's an example: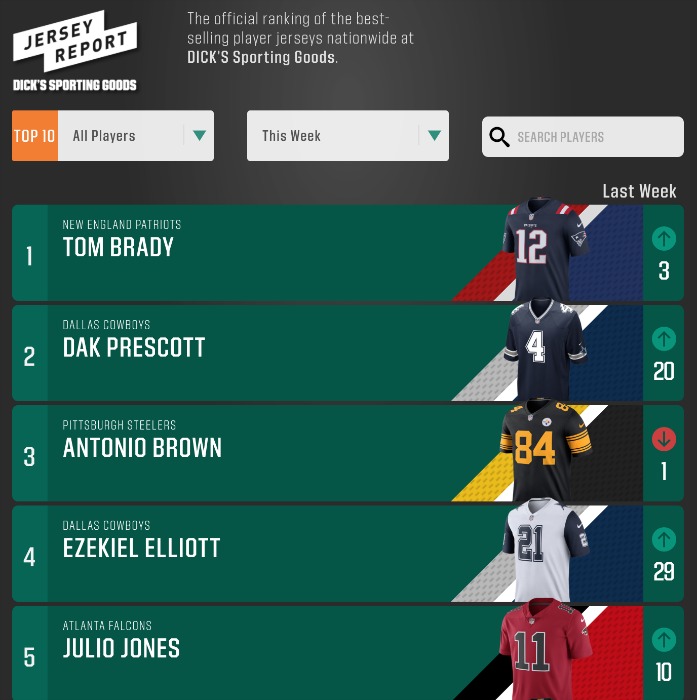 The drop-down arrows allow you to change categories (like offense, defense, rookies etc) as well as the length of time (this week, the last 30 days, or the season).
You can see the Steelers' Antonio Brown had the #1 spot last week, and has slipped a bit to 3rd. But check out the Cowboys' Dak Prescott, who made an impressive jump from 20th to the #2 spot behind Brady.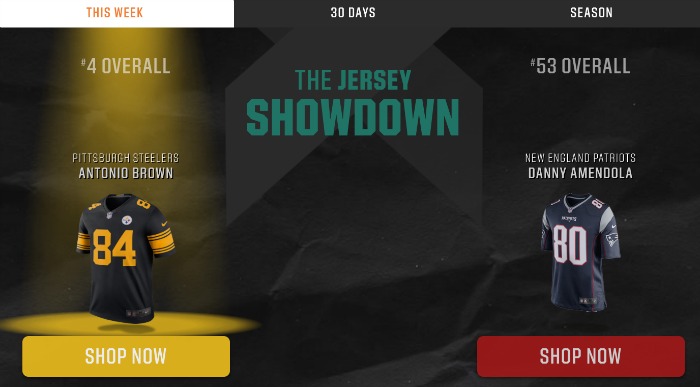 DICK'S Sporting Goods has long been known as the country's largest sporting goods retailer, with NFL jerseys being a key player in sales. Those jersey sales are aggregated into the Jersey Report, for some serious fan fun.
I checked out my favorite Colts player, Andrew Luck. Even though there's a downward trend, I suppose 13th overall for the season isn't too shabby?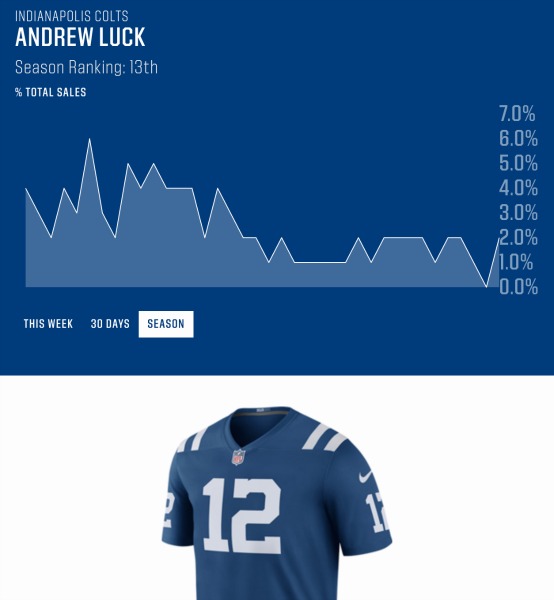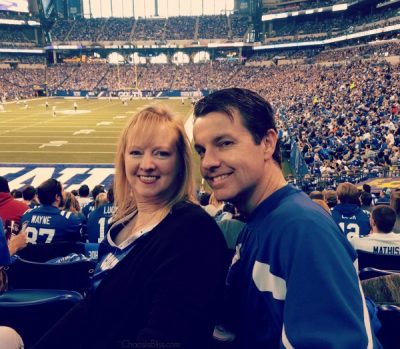 My sister and brother-in-law have had season Colts tickets for several years now, and for my birthday she gifted me her seats for the January season-ending game. It was quite spectacular, not only for Robert Mathis' career coming to an end, but the WIN to close out the Colts' season was thrilling!
Where do your favorite players fall in the Jersey Report? Check it out here:
Follow DICK'S Sporting Goods' Facebook and: Instagram pages for more sports fun and updates on merchandise for your favorite teams.
(Visited 1,415 times, 1 visits today)