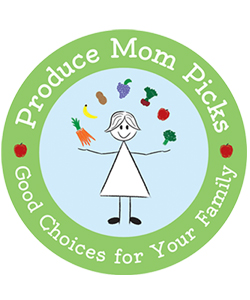 Every time you shop the produce aisle of your favorite grocery store, you have choices to make. Domestic or internationally grown, organic choices, local farmers, pre-washed/packaged vs wash-it-and-cut-it-up-yourself (whatever the technical term for that may be) … it can be daunting. And while you don't have to calorie-count in the produce aisle, you do have a partner that helps you make the best choices for your family.
The Produce Mom makes it easy for you with Produce Mom Picks.
By putting her Produce Mom Picks seal of approval on select brands and produce items, you can be assured these fruits and veggies will be Delicious, Nutritious, Convenient and Affordable.
Where can you find Produce Mom Picks products?
There are upwards of 250 grocers in six states (Wisconsin, Minnesota, Michigan, Ohio, Missouri and Illinois) offering Produce Mom Picks, and it can spread even more with YOUR help!
Kroger is a major grocery retailer and I've found very responsive to customer questions and requests. You can call Kroger at 1-800-576-4377. You can write on Kroger's Facebook wall, like I did. And you can submit a comment to Kroger's website, requesting they carry Produce Mom Picks fruits & veggies.
If you don't have a Kroger (or subsidiary) near you, just get in touch with your nearest grocery and encourage them to carry Produce Mom Picks!
Now for some fun! Enter one or both of these fun contests on The Produce Mom's Facebook page!
There are just a few days left in the contest to win a year's supply of Earthbound Farms Organic product coupons in The Produce Mom's photo contest! Contest ends 2/21/13.
All this month you can share your love of apples in The Produce Mom's poem contest for your chance at a $100 gift card to the grocery store of your choice!
This post was sponsored by The Produce Mom and Indianapolis Fruit Co.. All opinions are 100% mine. See my disclosure policy for more information.
(Visited 89 times, 7 visits today)