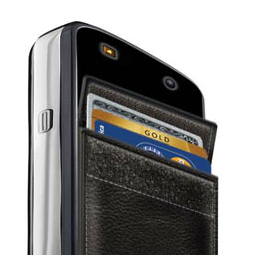 This is a neat little invention for men especially. The No Wallet Phone Wallet is a separate pocket wallet that attaches with velcro to the back side of your phone. It leaves room for the camera eye or to access the battery, and has pockets for up to 6 credit cards plus a cash holder.
Get one or more just through today for only $4.95 … and FREE shipping! It normally retails between $11.95-16.95.
Details: Slim Model + Phone Maginfier: Smartphones 4 3/8″ and Longer. Including all iPhones®. Package Includes: Leather Wallet Fits All iPhone® Models Hands Free Magnifier with Adjustable Bridge – One Size Fits All Self Adhesive Velcro to Attach to Phone or Case Dimensions: 10.5 cm x 6.4 cm Camera / Flash Cutout: 2 cm x 2 cm (will not block iPhone® camera or flash)
Offer good through 1/11/12.
Check out other online deals to help you save even more when shopping online!
(Visited 341 times, 1 visits today)