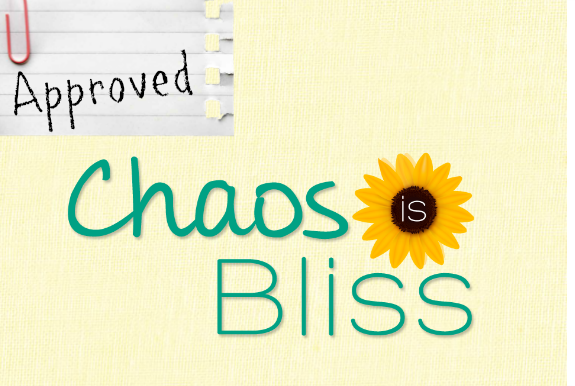 There have obviously been some big changes going on behind the scenes here at Chaos Is Bliss!
If you've been a follower for some time, you'll know I have focused mainly on sharing great deals, hot coupons, freebies, giveaways and an occasional recipe or other lifestyle-related content.
I have had the same name, logo and design since I began in 2010, and I was ready for a change!
Chaos Is Bliss is my baby that I continue to nurture and grow, and now we're in the toddler years. You know when your baby takes her or his first steps, falls on their bum, clumsily gets back up and eventually toddles off?
That's where I am – yes, even after almost 5 years!  Slow and steady wins the race, so we hear, but there's not a race to be won in the blogosphere.
Sharing what I love has always been my purpose, and my passion, with Chaos Is Bliss. I still love the name, and although I will always keep a frugal mind with my blog posts, I knew I never wanted the words "frugal", "coupon" or "deal in the name of my website, because it might not make sense when someone comes from my most viral post on Pinterest to see a website with a bunch of coupons.
So I'm making a slow transition to more lifestyle content, in order that I may increase my writing skills and share even more of the topics I'm passionate about: family life, cooking, travel and even some really great deals, but all while still keeping a frugal mindset.
I was ready for a change.
Aside from the glaring new logo, colors and overall design (thanks to Jackie over at Strongtower Web Design!), you'll notice a few more enhancements:
Posts in your inbox: At the top of the page, you can easily sign up for my email newsletter so you don't miss a single post. There's a little "X" on the top right if you'd rather not see that.
New navigation: You'll see new, streamlined categories in my menu: Spend Less, Have Fun, Travel, Good Food, Making a Home, Family Life and Indiana.
Where'd the deals go? When you click on the Spend Less tab, you're taken to my deals page, with a new menu of popular categories: Grocery, Retail, Online, Freebies and Frugal Tips.
Sharing is caring! See something you like? Share it with your friends on Facebook and pin it on Pinterest. Now there's a colorful sharing bar on the right side of the page. To hide it, hover over it and click the arrows.
And speaking of the easy way to sign up for emails, even my new email newsletter has a new look to it!
So take a look around, and let me know what you think!
(Visited 486 times, 5 visits today)