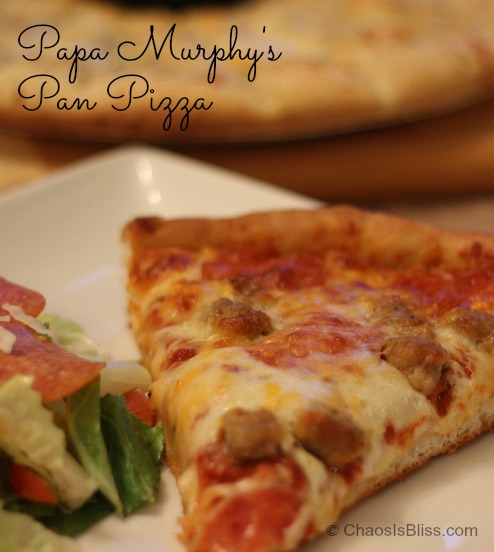 We're fortunate to not have many after school activities going on right now, but Wednesday nights for my family mean piano lessons, a quick dinner, then basketball practice.
Last Wednesday was especially hectic with errands to run prior to my son's 8th birthday party the next day, so when I had an opportunity to try out Papa Murphy's new Pan Pizza, at least for that Wednesday I knew I had a plan for dinner. And sometimes that's half the battle, right? What's for dinner.
Pizza is one meal we eat about once a week. (Did I type 'meal'? It's more of an entree, but technically it could have your four basic food groups, so let's go with 'meal'). We have our favorite frozen brands, our favorite delivery places, and then there's this in-between place that's not frozen, and it's not delivery.
It's Papa Murphy's.
And here's where I'll make you all jealous: Mine has a drive-thru.
If there were ever a time when I needed a drive-thru, it's the 4-6pm hour. To quote a MOPS speaker, I call it the cyanide hour. You want to give a little, you want to take a little.
So yeah, I will totally hit the Papa Murphy's drive-thru, because a) it's 5 minutes from my house and b) we love pizza.
The particular day we tried Papa Murphy's new Pan Pizza I shockingly had the "meal plan" of knowing at 2pm that I wanted Papa Murphy's that night, so I ordered online on my phone while sitting in the Target parking lot, and scheduled my pick-up for 3pm.
So I pull up and sure enough, my Papa Murphy's order was perfectly ready in time. I Instagram'd this: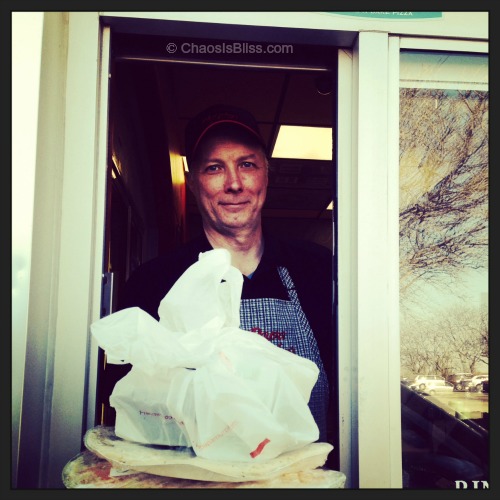 Even if your Papa Murphy's doesn't have a drive-thru, you gotta love that you can have hot, fresh pizza when YOU want it. Pick it up early in the day if your schedule allows, keep it in the fridge, and bake it when you're ready.
And it is SO affordable. You'll have to check out their deals page. When I was sitting in that Target parking lot I was thrilled that there happened to be a coupon code for 25% off my entire order.
So we got an entire meal for just under $17: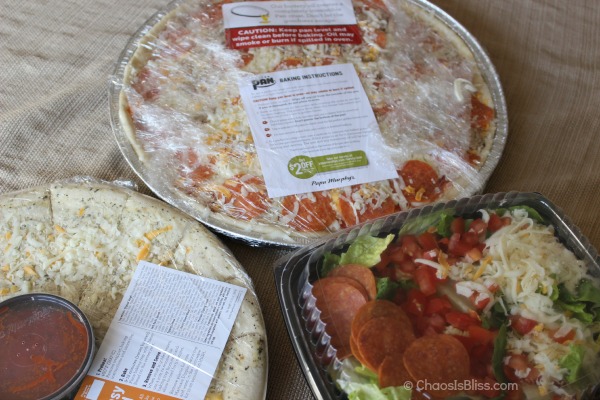 And with the new Papa Murphy's Pan Pizza, the crust is thick so it fills your tummy, and our family of 5 still had leftovers. The salad was big enough for Larry and I and 2/3 kids (1/3 refuses all things green). And the cheesy sticks were a-plenty too, in fact I might toss some pepperoni on the leftovers for a white pizza (no sauce) night this weekend.
So have you tried Papa Murphy's before? Is your family a pan, handtossed or thin crust kind of family?
This post was sponsored by Papa Murphy's and MomSelect; however all opinions including my love of everything that makes my life easier are 100% my own. Please see my disclosure policy.
(Visited 647 times, 6 visits today)