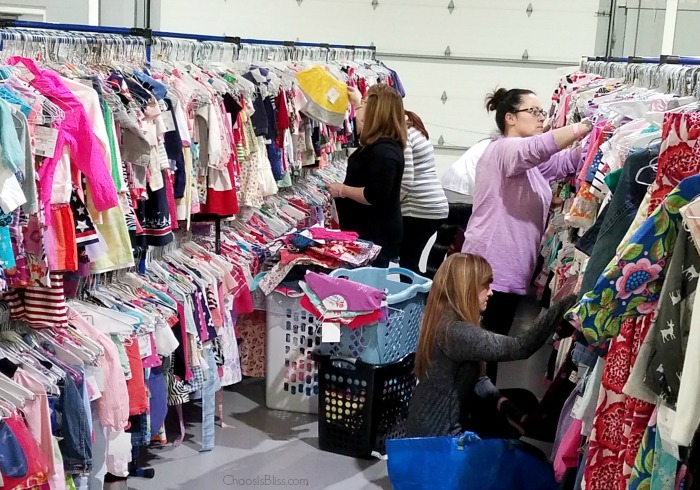 March is the perfect time to clean out your closet … out with the winter and in with the spring styles! Today in my segment on Indy's B105.7 with Sean Copeland, I talked about two ways to save on clothes for kids AND parents! You can listen here.
How to Save on Kids' Clothes
First, let's talk about the kiddos!
Here in central Indiana, I consign many of my kids' outgrown things with Indy Kids Sale. It was recently voted the best children's consignment sale in Indiana!
Indy Kids Sale is this Thursday, Friday and Saturday at the Hamilton County Fairgrounds. It's free admission and such bargain prices – we're talking $2 & $3 for shorts, kids' bikes as low as $10, and everything is either new or excellent pre-owned condition.
How to Save on Adult Clothes
Now for the parents … how are you going to save on your styles for spring & summer? A while back I wrote an article sharing tips on buying and selling in the Facebook marketplace as a great option to find new, and next-to-new things for all around the house.
What started as groups ran by individuals has blossomed into an actual, virtual, marketplace with no admin monitoring. 
So if you're looking to bless and release those tired old clothes or tired old decor, check out the Facebook marketplace as a way to sell your items for cash. And to pick up some new-to-you things for all around the house.
~ ~ ~ ~ ~ ~ ~
If you'd like to hear audio from today and the past couple of weeks, you can visit my media page.
If you like these deals, you might like to subscribe by email. And be sure to follow me on Twitter and "Like" my Facebook page for extra tips that don't make it to a blog post!
(Visited 381 times, 3 visits today)