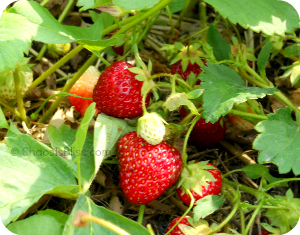 Now that the calendar says we're mid-way through Spring, are you already living barefoot on your porch? Flip flops and fun outings?
One of my favorite things to do with my kids, when the season is right, is to visit orchards and U-pick farms. My little worker bees have so much fun picking fresh berries, I have to pull back the reigns a bit so they don't "clear the shelves" and leave some for others. Five pounds of strawberries? Errr … I guess we'll be making some strawberry bread.
I personally can't get enough of fresh berries … black, blue, red, rasp – doesn't matter what they start with, they end in my belly. I never tire of finding new recipes using fresh fruits and berries, or we just have them as God created them, fresh from the vine.
Here are a few of my favorite pairings:
Red, White & Blue: Strawberries, Blueberries & Bananas
Berry blend: Raspberries, Blackberries & Blueberries
Made for each other: Strawberries & Kiwi
High contrast: Pineapple & Blackberries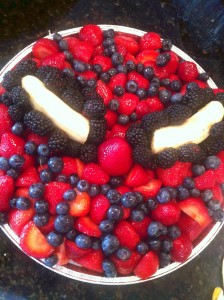 Recently I've been visiting Pinterest more often than I probably should (follow me!), and I've found fun ways to display fruit, such as this Spiderman Fruit Tray from The Produce Mom. Most kids probably wouldn't need a reason to grab fresh berries, but having it in a cute arrangement (especially for a themed birthday party) adds fun to your fruit!
Follow The Produce Mom on Pinterest!
Find Your Favorite
So what's your favorite? The Produce Mom has worked effortlessly on a Find Your Favorite campaign featuring local Indianapolis heroes and their favorite fruits, and supported by Indianapolis Fruit Company.
Posters and educational materials featuring the hero-produce pairings are found in Indianapolis Public Schools, and promote healthy eating and active lifestyles for children. The hero (such as Blue, the Colts mascot) is posed with a favorite fresh fruit or vegetable and kids can read all about the nutritional benefits of that produce item.
So what's your favorite? Leave a comment and share about your favorite fresh fruit pairing , or maybe your favorite fresh veggie and how you prepare it. Maybe some readers will be inspired to find new favorites!
(Visited 291 times, 1 visits today)