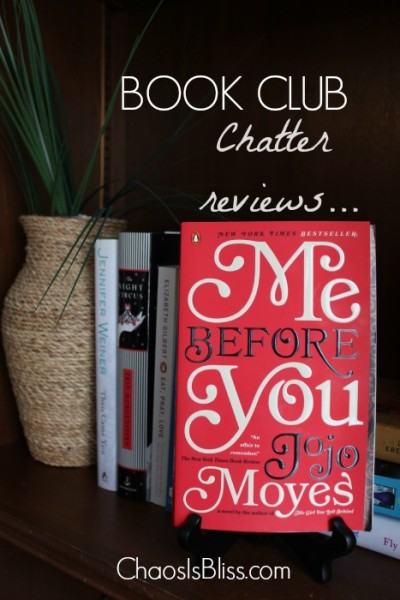 I'm excited to launch a new monthly feature on Chaos Is Bliss, that I've dubbed Book Club Chatter. I'll give you my personal review of the book we read in my neighborhood book club, along with some questions and discussions the book brings up in our group.  And before you ask, NO you won't get your eyes on any gossip, truthfully there's not much of that when our book club comes together, and even if there were, Vegas rules apply (*ahem*).
I look forward to our gathering each month, in fact I've referred to these friends as my 'tribe'. There are lots of laughs, a few tears depending on the book or the conversation it sparks, occasionally there's some inappropriate language thrown around, definitely more than one bottle of wine, but it is always a fun, meaningful time and I'm so glad to know these ladies.
This month my book club read Me Before You by Jojo Moyes.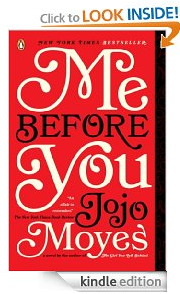 About the book:
Louisa Clark is an ordinary girl living an exceedingly ordinary life—steady boyfriend, close family—who has barely been farther afield than their tiny village. She takes a badly needed job working for ex–Master of the Universe Will Traynor, who is wheelchair bound after an accident. Will has always lived a huge life—big deals, extreme sports, worldwide travel—and now he's pretty sure he cannot live the way he is.
Will is acerbic, moody, bossy—but Lou refuses to treat him with kid gloves, and soon his happiness means more to her than she expected. When she learns that Will has shocking plans of his own, she sets out to show him that life is still worth living.
I purchased this book on Kindle (Thanks to Erin for letting me borrow her paperback for the photo above) and without having the luxury of reading a cover or inside flap from a print version, I really didn't know anything about the story until I started reading. It's set in England, so there's much "bloke" and "knickers" and such language, which was a little funny and yet delightful to get used to.
Me Before You opens with a quick background setting of Will Traynor's morning, crawling out of bed with his then-girlfriend, showing a bit of arrogance, only to be involved in a near fatal car accident as he leaves his apartment.
Fast forward to a dark time in Will's life, the victim of a C5-6 spinal injury causing him the loss of use of his arms or legs. His parents are seeking to hire a caregiver for him (when several previous had come and gone swiftly), and then Louisa Clark (a.k.a. Lou, or "Clark" as Will calls her) steps into their lives. Louisa has zero experience, and zero drive or direction.
They seriously could have less in common, and yet throughout the story they both show their vulnerable sides, they know how to get under each other's skin and how to soften a heart with just a look.
Chatter
During our book club review we discussed the title … Me Before You. What does it mean?
Does it mean, "I need to take care of myself before I can take care of anyone else"?
If so, who is the "I" and who is "anyone else".
We discussed how, in this story, the title's meaning can go both ways. Will and Louisa changed each other's lives, forever. Will brought out in Louisa her sense of self, which she had never known before. Louisa showed Will that even though it seemed his life was in despair, he still had a lot worth living for.
We talked a lot about "what would you do" if you were in the same situation:
If you lived life to its fullest, then it seemed your world was ripped apart and you could barely function – would you, could you, go on?
What if you had the prognosis of certain debilitating illnesses, that could start choking the life out of you – literally, could you see any future?
Me Before You is a love story. Quirky and atypical, for sure. It evoked an "ugly cry" from a few in the group, and while I can (and did) cry over a McDonald's commercial, reading this book didn't make me go there. There were definitely sweet moments, like when Lou and Will slow 'danced' at a wedding, and Lou's admission of her true feelings.
Supporting Characters
Supporting characters in the book are Will's stiff yet desperate mother, his cheating but still present father, the nurse Nathan (I loved this guy), and in Lou's family it was mainly her sister Treena (GREAT love-hate sister relationship as many can relate to), and their parents.
I like that maybe 1/4 of the chapters were narrated from a different supporting character's point of view. This helped to see things through their eyes.
Here's a quote from Will's mum that I highlighted:
I was so furious, you see, that all around me were things that could move and bend and grow and reproduce, and my son – my vital, charismatic, beautiful boy – was just this thing.
While his mother seemed cold and distant, she really did love Will and was absolutely desperate to hold on to him.
~ ~ ~ ~ ~ ~ ~
Me Before You probably wouldn't have been a title I would have picked up on my own, which is precisely why I was interested in joining a book club. But I did enjoy it, and think it should be on your reading list for 2014.
If you'd like to know more about the book, here are a few helpful links …
What we're reading next: The Goldfinch by Donna Tartt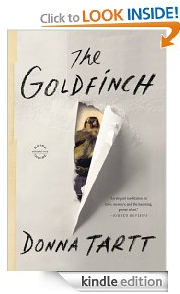 So have you read Me Before You? What did you think about it? Think it'll make a good movie?
You may also be curious to check out:
This post contains affiliate links. By using these links you support my site – thank you! See my disclosure policy.
(Visited 507 times, 1 visits today)