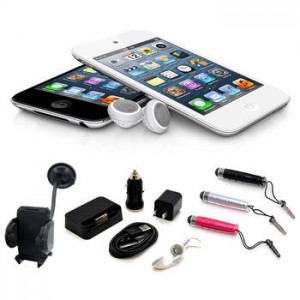 Just through tomorrow morning or until it sells out, head to Tanga to get a 4th Generation 16GB iPod Touch with $50 Accessory Bundle for just $179.99 plus $4.99 shipping! The same version on Amazon
is $188.25 just for the device alone.
Product description:
The world's most popular portable gaming device is even more fun. Now available in black and white, iPod Touch includes iOS 5 with over 200 new features, like iMessage, Notification Center, and Twitter integration. Send free, unlimited text messages over Wi-Fi with iMessage. Record HD video and make FaceTime calls. Visit the App Store to choose from over 500,000 apps. iPod touch also features iCloud, which stores your music, photos, apps, and wirelessly pushes them to all your devices.
The accessory bundle includes:
White Headset
Black Docking Station
Black Car Plug
Black Home Plug
Black Data Cable
3 Mini Stylus Pens
Gooseneck Car Mount
Returns are available within 30 days. See site for details.
Find more great online deals!
(Visited 56 times, 1 visits today)