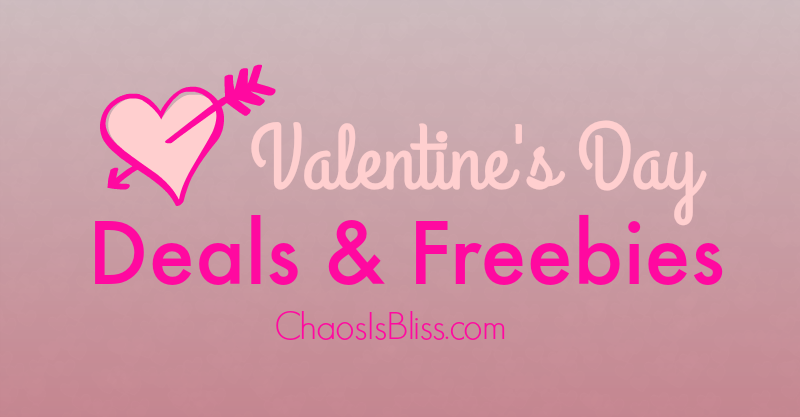 Valentine's Day Deals & Freebies 2016
If you'll be celebrating with your sweetie, or you're just in the mood for a treat for yourself, take a look at these Valentine's Day deals for this weekend. Thanks to Time 2 Save Workshops for compiling the list!
And don't forget, you can save money on your Valentine meal at both National chains and little local gems when you use these fantastic sites:
Bonefish Grill
Just $29.90 per Person for a Salad, Filet & Lobster Tail or Imperial Sea Bass Entree, and Chocolate Creme Brulee to share. More details here.
Buca di Beppo:
Dinner for 2 for $49.99 (Feb 12 – 14) Includes Heart-Shaped Lasagna salad, garlic bread and cannolli – Get more details here.
California Pizza Kitchen
$32.99 Meal for Two – includes Appetizer, 2 Entrees and Dessert. More details here
Chili's
$35 Cupid's Combo for Two (Feb 8 – 14). Includes 2 Presidente Margaritas, an appetizer to share, 2 6-oz Sirloins, and a White Chocolate Molten Cake for dessert. More details here.
Dairy Queen
Red Velvet Blizzard Cake for Two only $9.99 – order HERE. Red Velvet Blizzards served upside down or your next one's free – join the Blizzard fan club for a BOGO Blizzard Coupon to be delivered in your inbox each month.
Dunkin Donuts
Heart Shaped Donuts – but no specials we know of yet.
Hooter's
You may have heard me on Indy's B105.7 today sharing this crazy-but-true deal (listen here)… Let's say Valentine's Day just isn't a day of love for you, maybe you went through a divorce or a breakup, well you have an opportunity to Shred your Ex and get some free wings at Hooters. Yes, you can shred a photo of your ex online or in the restaurant and receive a BOGO coupon for 10 free wings when you buy 10.
IHOP
All you can eat pancakes through Feb 14.
Jack In The Box
Jack in the Box is offering a million burger giveaway. Fill out this form and receive a coupon by email for a free burger, limited to the first one million given away.
Krispy Kreme
Heart-shaped donuts that come with printable Valentine's here. In the past they've done this – and may announce it again closer to time (Fingers Crossed! Buy a Dozen Krispy Kreme Doughnuts and receive a sheet of Krispy Kreme Valentines coupons. There are 12 coupons good for 1 Free doughnut each.
Outback Steakhouse
$40 Dinner for Two (Feb 8 – 14). Includes Bloomin' Onion, 2 9-oz Sirloins and sides, 2 Salads and Cheesecake. Get more details here.
Papa John's
Large Pizza with up to 5 Toppings for $9.99 – see more details and other specials here.
Papa Murphy's
$7 HeartBaker Pizzas make a great easy dinner for the kiddos. This heart shaped take-n-bake pizza is just $7 (although prices and participation vary) and comes topped with 3 cheeses and pepperoni or sausage. Limit of 3 per customer, good until 2/14.
Qdoba
Buy One Entree, Get One Free when You Share A Kiss At Qdoba On Feb. 14th – with anyone/thing! No coupon necessary – more details here.
Ruby Tuesday
Enjoy a lobster tail with any entree for $6.99. More info here.
Starbucks
Invite a date to try their new Molten Chocolate Latte with these Valentine date invitation GIF's
Steak n Shake
Free Valentine Milkshake on your next visit wyb $10 in Giftcards here.
Texas Roadhouse
$36.99 Valentine's Dinner for Two (Feb 12 – 15). Includes Cactus Blossom or Fried Pickles Appetizer, and choice of 2 Entrees. More details here.
Waffle House Candlelit Dinner
Make reservations at Waffle House this Valentine's Day for a romantic dinner with tablecloths, candles and a classic menu of breakfast items and steak.
White Castle Candlelit Dinner for Two
Select White Castles are taking reservations for a romantic evening where you'll be seated by a host/hostess and order from special menu items like "Shrimp Nibblers" and "Strawberries & Cream Waffles".
(Visited 137 times, 1 visits today)